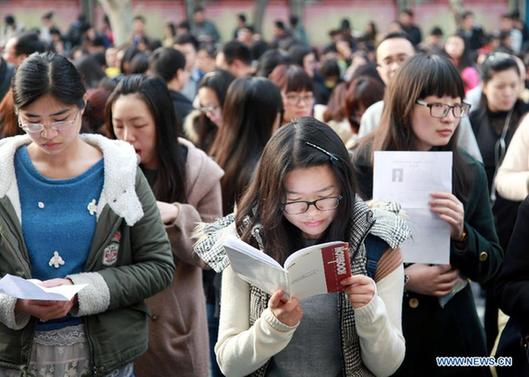 Candidates review before the civil servant recruitment exam of Jiangsu Province at Nanjing Forestry University in Nanjing, capital of east China's Jiangsu province, March 22, 2015. More than 190,000 candidates here will compete for 5,872 positions this year. [Photo by Liu Jianhua/Xinhua]
There are lots of astonishing numbers about the Chinese economy. For example, China used more concrete in 2010 to 2013 than the United States used in the entire 20th century. Its continuously high GDP growth rates for more than 35 years are unmatched in history. But the most impressive number is the growth rate of wages.
Real wages (adjusted for inflation) in China went up on average 11 percent a year from 1995 to 2015. This means the real living standard of the average Chinese worker multiplied more than 8 times in 20 years-doubling about every six years, and changing to an incredible extent the lifestyles and opportunities of workers.
But China's wages are determined by market forces. Chinese businesses could not pay the higher wages if they had not moved into higher value-added businesses. The real wage increase has been made possible by a continuous process of rapid business reform. In fact, the wages force businesses to innovate, so there is a positive feedback process. The wage growth also ensures there is rapidly growing domestic demand for Chinese products.
China's economic model is often criticized for emphasizing investment over consumption. China does have the world's lowest percentage of income to consumption (35 percent) and the highest among major countries to investment (43 percent). But it's misleading to say China is a low consumption economy-consumer spending has risen on average 9.8 percent a year over the last 20 years. It's just that incomes have risen even faster.
Has this massive investment paid off? The real wage rise shows that it has. Without high investment and the high savings rates that made it possible, China could never have made the transition from a very poor to a middle-income country.
Of course, there was some waste-especially during the process to implement the stimulus package after the global financial crisis. But infrastructure never pays for itself anywhere in the world and is almost always subsidized by governments. China's roads, railroads and ports match or exceed those in high-income countries and are a key factor that makes business transformation, and thus wage growth, possible.
As the 13th Five-Year Plan (2016-20) recognizes, China may have to transition from the high-investment model despite its success. The ongoing supply side reform is part of a move toward a more productive and efficient economy. But continuing investment is also critical. Chinese capital levels are still much lower than those in many developed countries, so the transition should not be too abrupt or go too far in the other direction. I fear for my country, the US, which has consumed 65-70 percent of income and invested only about 20 percent for the last 40 years, leading to low growth and stagnant wages.
The Chinese economy, however, faces challenges too-especially worrying is the slowing private investment in early 2016, falling to 3.9 percent growth from 11.4 percent last year. This appears to be a regional problem, because the coal, heavy industries and natural resource-based economies of some northern provinces have slowed dramatically, while the more innovative, competitive and export-oriented economies in the rest of China are still booming.
Japan's and the Republic of Korea's periods of high growth ended soon after their wage growth slowed dramatically. Without wage growth, the high investment model followed by the successful East Asian economies will not work. Fortunately, there is no sign in China that the benevolent cycle of higher value-added businesses paying higher wages has slowed. As long as we continue to see real wages grow, there will be enough reason to be optimistic about the future of the Chinese economy.
The author is an editor with China Daily.
davidblair@chinadaily.com.cn