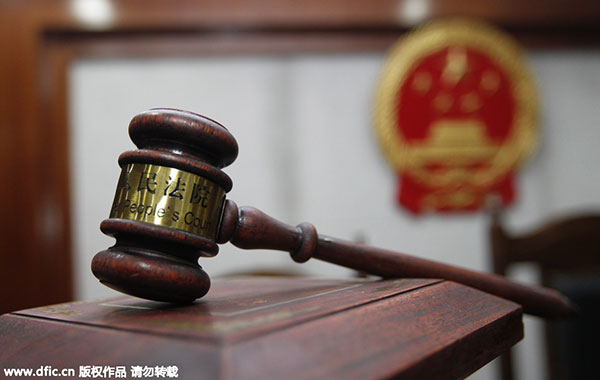 A gavel in a court. [Photo/IC]
Chen mingming, a vice provincial governor in Southwest China's Guizhou province, appeared in court last week as the defendant in a land requisition case brought by a farmer. This is reportedly the first time a leading official from a provincial government has appeared in court as the defendant in a civil lawsuit. Beijing News commented on Tuesday:
That the senior Guizhou provincial-level official appeared in court is because an amendment to the law last year has made it easier for citizens to sue a government.
But the high-ranking official's presence, notable as it is, should not be overstated. Nor should senior officials be routinely made the defendant in people's lawsuits against local governments. In most cases, it is the relevant law enforcers that should defend a government's actions.
Thanks to the revision to the Administrative Procedure Law last May, which enables citizens to sue a government more easily and demands leading government officials appear in court to defend their actions, there has been a significant increase in the number of lawsuits brought against officials.
Given the thousands of administrative lawsuits that some local governments have to deal with daily, the responsible administrative officials cannot make a court appearance in all of them.
Even so, they have to shoulder their obligation to carry out the courts' judgments, regardless of their administrative rankings. Those who refuse to do so should be held accountable in accordance with the law.
In other words, senior officials do not have to appear in court all the time; but they do have to ensure all relevant departments strictly carry out a court's decisions.