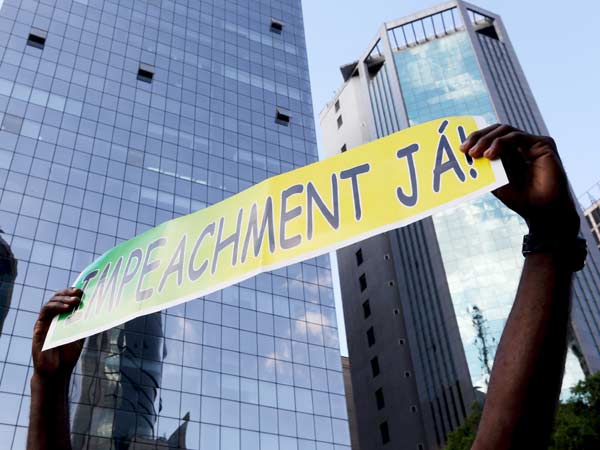 A demonstrator attends a protest against Brazil's President Dilma Rousseff, part of nationwide protests calling for her impeachment, at Paulista Avenue in Sao Paulo's financial centre, Brazil, August 16, 2015. [Photo/Agencies]
One of the most promising economies of the BRICS countries lost track and finished 2015 with a decline of almost 4% in the country's GDP. Another 3% loss is expected for 2016, bad news for Chinese trade with Brazil.
What are the reasons for such a disaster, when we see the emerging countries growing and China with more than 6% this year?
Brazil harvests the results of an antique (old mindset of the State being the big actor of the economy) populist and left-handed (socialist) government, completing 13 years in power, without important reforms to make production more competitive. The government of Lula da Silva (2003-2010), followed by the current government (2011-2015), that still has this gentleman as a "hidden president", was one of the worst seen in Brazilian history. This period is called the "lulopetismo" era (a word that joins Lula and Petismo, his political party with origins in labor unions with the damaging view of employee protection and rights, and not of company productivity and meritocracy).
The deficit of the federal government is out of control, industrial production is declining, unemployment exploding (and a very low labor productivity) and unfortunately inflation, a terrible disease that hits the poor, is back in our society at a rate of almost 11%. The currency has lost its value and interest rates are among the highest in the world, transferring money from production to the financial sector, another punishment for poor people.
Similar to the results of other populist governments, Brazil lost its capacity to generate income and as a consequence, income can't be distributed anymore. Social gains and inclusion that happened within the last 15-20 years are being lost, unfortunately. The country was downgraded in rating agencies, losing its investment grade, but mostly downgraded as an organized society.
Together with the economy, the Lulopetismo period resulted in a strong deterioration of institutions and public companies in Brazil. The destruction of Petrobras can be found in a recent paper of the recognized finances Professor Aswath Damodaran. The company lost its value and most of its directors are in jail. Several publically-owned companies, pension funds and agencies were destroyed similarly to Petrobras.
Even being a poor country, the expenditures of the giant state structure are incredible, like for instance what was spent during the recent event COP in Paris. It is a culture of endless money with rentals of limousines, staying always in the most expensive hotels and other daily aggressions to Brazilian tax-payers.
Lula infiltrated corruption in the state structure in a dimension never seen in Brazilian history. The prime minister (chief of casa civil) of Lula's government, the president of PT (Labor's Party), the president of Congress during Lula's government and PT financial managers were all condemned and arrested. The CEOs of the most important construction company of Brazil, of one of the fastest-growing banks and a cattle rancher whoran several lobbies during his term in government are all in jail.