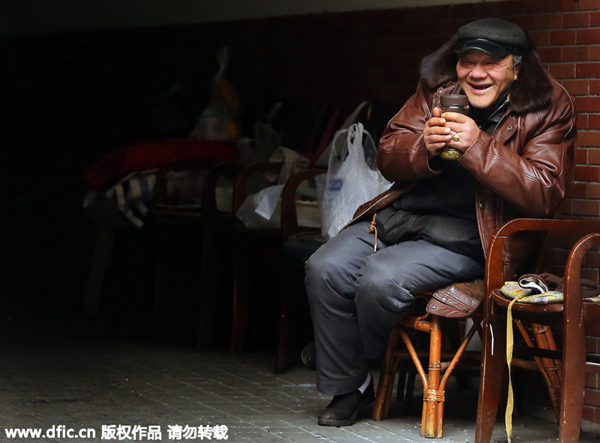 An elderly man sips tea and sits on a warm afternoon in Shanghai, Feb 2, 2015. [Photo/IC]
The Ministry of Human Resources and Social Security said recently that China's average retirement age is among the lowest in the world, and they have submitted a plan to the top leadership for approval that raises the legal retirement age by a few months each year so that it gradually reaches a fair level. Comments:
One of the reasons the ministry wants to delay retirement is the State pension fund run faces a deficit. However, there are actually other ways of covering the deficit, like investing some of it in the stock market, a measure that has already been taken by the fund's management bureau. The ultimate solution to the deficit lies in comprehensively adopting more such measures instead of relying on just one.
Beijing Times, Oct 16
Even if authorities bind older people to their positions by raising the retirement age, these workers might not contribute much to overall productivity; worse, there might not be sufficient jobs for young people who enter the job market because older people are still working. That's a possible negative result of delaying the retirement age, and policymakers need to be alert to it.
Beijing Youth Daily, Oct 19
The ministry said Chinese workers retire at a quite early age. What they haven't told us is Chinese people's average life expectancy is low compared with developed countries, too. Japanese males retire five years later than Chinese males but they live about eight years longer. Therefore it is not fair for Chinese workers to retire at the same age as their counterparts in developed economies.
Sun Bo, a guest researcher on public policy at Renmin University of China, Oct 19