One of the effects of Chinese herbal scientist Tu Youyou winning a Nobel Prize for medicine has been the rise in prices of traditional Chinese medicine-related stocks on mainland bourses after the weeklong National Day holiday.
Tu, the first Chinese national to gain the glory in science, seems to have sparked unprecedented investor enthusiasm for TCM-related stocks. Shares of drug producers, led by companies such as Shanghai Fosun Pharmaceutical and KPC Pharmaceuticals, rallied by the daily limit of 10 percent on Thursday, coasting on Nobel-sparked hopes that the TCM industry will boom in the wake of international recognition for Tu's achievements.
If you happen to hold some of these stocks and have made some profits, good for you. But if you are planning to buy such stocks thinking the TCM industry is in for a boom, think again.
Consider this: In the mainland markets, stocks have rallied too many times on so-called favorable news. Sometimes, it requires the wildest investor imagination to justify the tenuous link between news and perceived good prospects for a sector or industry.
Unlike in mature markets, fundamentals like corporate growth or innovation are not always given prime importance here.
A foreign ministry spokesman's comments over tensions in the South China Sea, or in areas surrounding the Diaoyu Island, could ignite a rally in shares of companies associated with the defense industry.
Similarly, if Chinese first lady Peng Liyuan in fashionable clothes draws sparkle of press camera flashes during her husband's state visits, spin-meisters foresee a bright future for the Chinese garment industry, sending fashion and textile stocks skyward.
That's not all. China Central Television's prime time news that covers State Council meetings on important topics like "Internet Plus" and "Made in China 2025", more often than not could cause a bull run in related stocks the next day.
But stock picking is far more complicated than just investing in response to news in the public domain. Else, we would not have seen 80 percent of investors in China losing money.
After all these years of dabbling in stocks, I have seen too many stocks surge on "good news", which turned out to be nothing but a trap for small investors who are given to herd mentality.
In July 2001, after Beijing won the bid to host the 2008 Olympic Games, a friend of mine, like many other investors, saw opportunities to make money from stocks of infrastructure companies, given the general wisdom then that the bid will spark massive infrastructure construction in the run-up to the Games. He bought shares of Beijing Urban Construction Group, a leading company in the sector. One year later, he opted out after losing half his investment.
He said in retrospect he had neglected a key rule of the market: "Buy on rumor, sell on news". He had done the opposite and paid the price.
Well, buying on news is not totally wrong. Buy decisions should be based on confidence in a company's future. The logic is that if you believe in a company's value, you should act like a value investor, and buy and hold.
But that appears to be the most difficult thing to do for most Chinese small investors. Their way to survival is to "stir-fry" stocks - that is, speculate for short-term gains.
It transpires the most they hold stocks is not more than a month and in June, before the latest round of market meltdown, the time for a small investor to hold stocks was reduced to no more than a week, according to a research note by Hong Hao, managing director for research at Bank of Communications International.
So, before you buy TCM-related stocks amid the current feverish rally in them, ask yourself two questions: Do you really believe TCM companies have a bright future? And most important, how long are you going to hold their shares if you buy them now?
Contact the writer at huangxiangyang@chinadaily.com.cn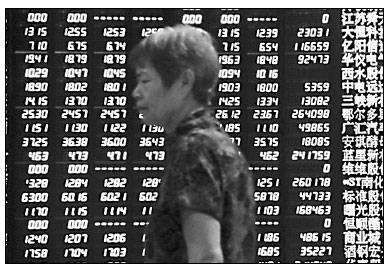 An investor at a brokerage in Shaoxing, Zhejiang province. Most Chinese small investors speculate for short-term gains. Provided To China Daily
(China Daily 10/13/2015 page14)