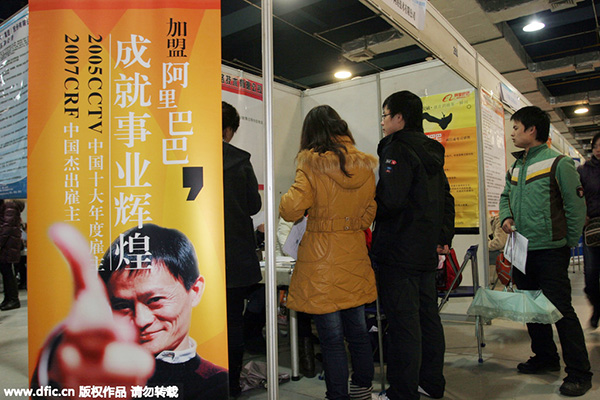 An Alibaba Group Holding Ltd stand at a talent fair in Wuhan, Hubei province. The e-commerce company said it has given 1,407 job offers to graduates and will have more to offer this year. [Photo/IC]
That university graduates from impoverished families now face increasing difficulties finding a job after graduation has underscored the urgent need for the country to take a series of targeted measures to help them get a job so as to effectively prevent the "perpetuation" and expansion of the poor-rich gap in the country.
A report on employment conditions for university graduates in 2013, published by the Chinese Academy of Social Sciences recently, indicates that graduates born of rural families find it more difficult to get a job than their urban counterparts. The unemployment rate of rural graduates reached as high as 30.5 percent. Such a high jobless rate means that the hopes of many rural students longing to change their fates through education have been dashed.
Such a fact, if not changed, will cause worrisome social consequences. It may once again consolidate the once-popular perception that "education is useless" and then dampen rural families' enthusiasm for letting their children go to school.
A recent survey under the sponsorship of the China Youth Development Foundation on 1,200 students from poor families shows that they are most concerned about the lack of equitable opportunities, not hardship.
Early this year, People's Daily pointed out the risk of the generation-to-generation transmission of poverty in China. It warned that without making efforts to change the situation, the poverty and wealth gaps will become institutionalized in the country, which would lead to the formation of a social structure that would limit the upward social mobility of people in rural areas.
At a time when university graduates generally face a severe employment situation, what the government should do is to ensure fairness and set up a healthy labor market that is based on graduates' majors and specialties rather than their family backgrounds.