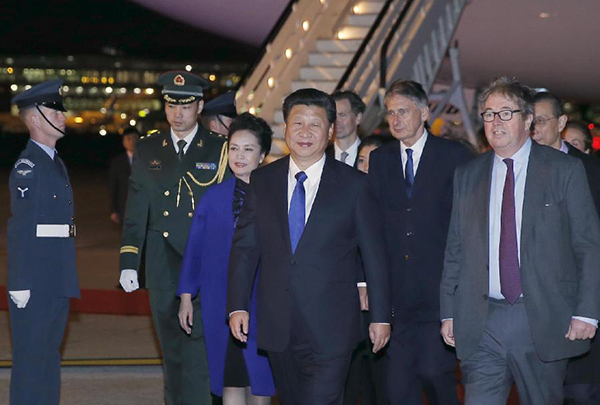 Chinese President Xi Jinping (C) and his wife Peng Liyuan (3rd L) arrive in London, Britain, Oct. 19, 2015, for a state visit to Britain at the invitation of Queen Elizabeth II. [Photo/Xinhua]
One of the things that will be discussed during President Xi Jinping's state visit to the United Kingdom will be the Belt and Road Initiative, which Xi proposed two years ago as public goods to boost common development and prosperity.
There are expectations that China and the UK are planning to set up a joint fund, as Beijing has been exploring such possibilities together with Brussels and Paris.
Beijing has already injected $40 billion from its foreign reserves reservoir into the recently-formed Silk Road Fund and it is open to setting up sub-funds with any countries along the Silk Road routes. Beijing and Paris are expected to form a fund soon and Beijing and Brussels are seeking to set up a fund that will connect China's investment in the Belt and Road Initiative with the 315-billion-euro European investment plan.
Earlier this year, Xi visited Pakistan, Indonesia, Russia, Belarus and other countries in Eurasia; he signed dozens of multi-billion-dollar agreements to assist those countries in infrastructural projects by offering financing, know-how and manufacturing exports.
Xi has managed to convince countries to accept the Belt and Road Initiative and European countries to link their development strategies with it. For example, the members of Shanghai Cooperation Organization and the Russian-led Eurasian Economic Union have already collectively agreed to develop Silk Road projects.
Just days before Xi set off for the UK, he summed up the progress that has been made in advancing the Belt and Road Initiative saying they have already reaped an "early harvest".
To build on the good momentum that has been achieved, Xi will spare no efforts to talk about the Belt and Road Initiative in the UK. China and Russia have already entered into an agreement to build high-speed rail to link between Beijing and Moscow. Discussions on the UK's proposed high-speed railway between London and Manchester might be on the agenda.
It is a fantastic vision to link the UK with China via a rail link that also connects them with continental Europe. Such a mega project will not be realized this week, but talk about it will show that the two countries intend to build more bridges, instead of barriers, to boost the connectivity.
Shared ambition and vision are needed if China and the UK are to realize all the talk of a "golden decade" for their relationship.
To send a message that they are on the same wave-length, China and the UK could announce this week that they have agreed to set up a joint Silk Road fund. Chinese companies are already looking to expand investment in UK's energy and infrastructural projects and such a fund could facilitate financing.
At the same time, if China and the UK set up a joint Silk Road fund, the impact will certainly go beyond their borders, as China and the UK will also explore third party markets for investments, especially in the developing countries.
If such a fund is announced during Xi's visit, it will be the UK's decisive support for the vision of pan-continental connectivity that is of global significance.
The author is China Daily chief correspondent in Brussels. fujing@chinadaily.com.cn