Editor's note: Kathy Krejados, our blogger from the US, reflects on the things that she has become inured to after living in China for four years. Some aspects of Chinese society that contrast deeply with life in the US even make her readjustment back home difficult. You are welcome to leave comments.
People
Unless I'm in my house, I can count on seeing people everywhere. The crush of humanity on buses, dodging physically linked groups on crowded sidewalks, having a total stranger share a table with me at KFC – none of this would happen in the States, especially strangers eating together.
By contrast, America seems empty. Even in bigger cities like Los Angeles, Seattle, Tampa and Portland sidewalks are virtually bare and neighborhoods seldom have anyone walking around.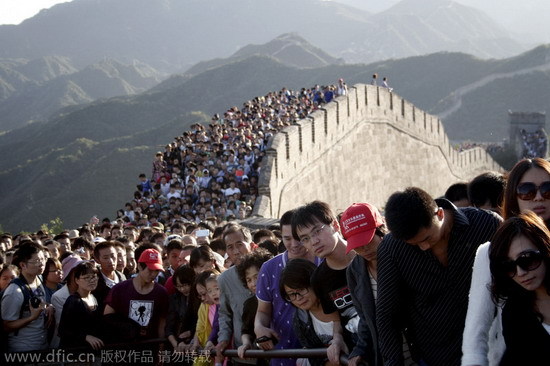 Tourists crowd the Badaling Great Wall during the National Day holiday in Beijing, China, on October 3, 2012.[Photo/IC]