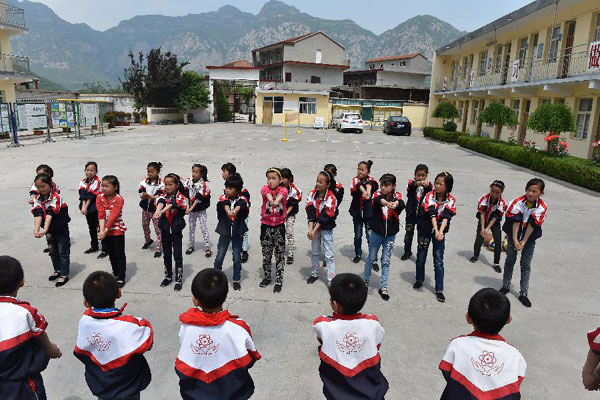 Boarders have a PE class at the primary school of Shicheng Township of Pingshun County, north China's Shanxi province, May 26, 2015. The children in the school are mostly left behind children whose parents work outside of their hometown. [Photo/Xinhua]
Four children, the oldest 14, committed suicide in Bijie, Guizhou province, and two young girls in Hengyang, Hunan province, were reportedly killed by a 12-year-old, who is accused of poisoning them. In both incidents, the victims were children whose parents work far away from home. Comments:
When people have to leave their hometowns to make money, their children are left behind with their grandparents or other relatives. These children without the protection of their parents are vulnerable to many dangers. Although their parents work and pay tax in the city, they have difficulty in getting their children the education they need because they do not have the local hukou (residence registration). It is necessary to reform the hukou system so that children are no longer left behind and grow up without their parents' protection.
Southern Metropolis Daily, June 12
With investigations underway, it is too early to say who is to blame for the two cases. But at least we can reflect on some of the problems in society that have contributed to such tragedies. Not only are there faults with our education and social welfare systems, there is also not enough love and care for children. It is time to change so as to avoid similar tragedies in the future.
People's Daily, June 13, via micro blog
The government always boasts that it provides funds to help children that have been left behind while their parents work elsewhere. But the problem is: None of the bureaucrats sitting in luxurious offices have even considered offering psychological aid to these children. Before their suicide, the four children in Bijie had already refused contact with the outside world yet no professional psychologist ever tried to help them. As it will be a long process before children can live with their parents in the cities where they have migrated to work, it is urgent to offer some psychological aid to these children.
Beijing News, June 13
Neither the government nor social organizations have offered help to the left-behind children in need. Most charity organizers only give money and second-hand clothes to the children, take a photo with them and post it on their social networks, but fail to even have a talk with them. That does not help ease the children's loneliness.
Zeng Wei, commentator, via WeChat, June 14