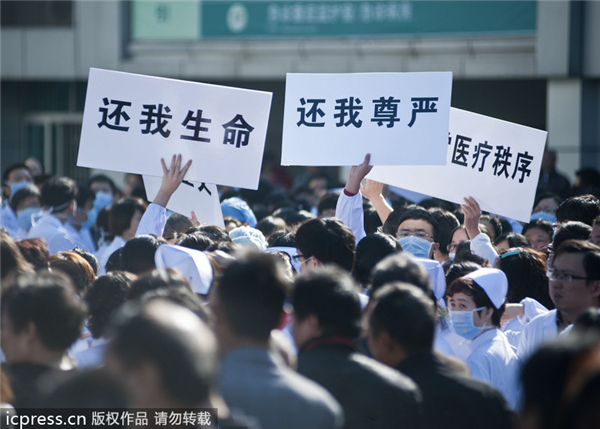 Hundreds of medical personnel from First People's Hospital in Wenling city of Zhejiang province gathered to call for an end to violence against doctors, Oct 28, 2013. [Photo / icpress.cn]
A recent "deathbed" will , handwritten by a patient in his 60s before a low-risk operation at a hospital in Yueyang, Hunan province, led to heated discussions on the doctor-patient relationship after it was found in the operating room and posted online by a surgeon. The will demand the hospital to compensate the man's family with at least 300,000 yuan ($48,043) if he died during surgery. The man survived. Comments:
It might seem absurd, but the patient's will was a result of his lack of medical knowledge, lack of communication with doctors, and more importantly, lack of trust in the country's hospitals. The root cause of similar concerns lies in the fact that patients can hardly find a trustworthy "referee" to act as judge in the event of any conflict with doctors.
Qianjiang Evening News, May 11
Most doctors stick to their professionalism and treat patients responsibly. It's a small number of irresponsible doctors and trouble-making patients that damage the trust and strain the doctor-patient relationship.
Tianjin Daily, May 11
The doctor-patient relationship in China is in fact not as bad as it has been portrayed on the Internet, which has presented a few misleading reports featuring uncommon medical conflicts to grab eyeballs. There are many contributing reasons for the alleged tensions, but doctors' benevolence risks being diminished if biased reports continue to make easy inroads into people's mind.
Chongqing Morning Post, May 11