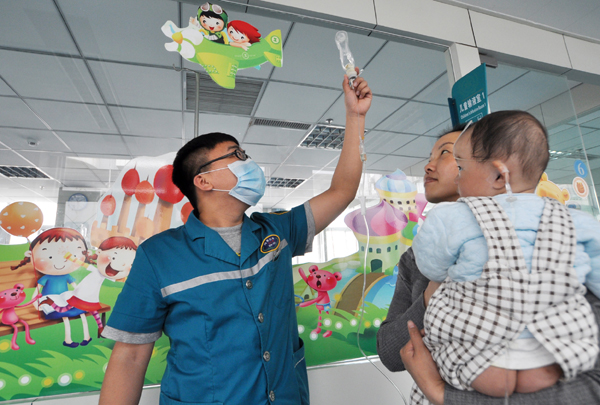 Zhang Yong, a male nurse, gives an injection to an infant at the Zhengzhou No 1 People's Hospital in Henan province on Thursday. The number of male nurses is rising in large cities across the country. [Photo/China Daily]
All top-level hospitals in China are required by the country's National Health and Family Planning Commission to improve their nursing services by the end of this year. In particular, nurses should accordingly call a halt to their bad attitude and be more affable and enthusiastic while serving patients. Comments:
Better nursing services lie very much in effective regulations, which are supposed to instill in nurses professional ethics on a regular basis, and manage those improper nursing behaviors in a strict manner. Moreover, an accountability mechanism that decides nurses' salary and promotion by their service, may also reduce the complaints about nursing misconducts in the country.
Zhong Liming, a guest commentator of newssc.org, March 18
What has resulted in the unfair relationship between nurses and doctors is related to the excessive utilitarianism that prevails in many Chinese public hospitals. In other words, doctors who are entitled to diagnoses, treat and prescribe medication, could earn more respect and money than nurses. Therefore, the key to making nurses more patient and amiable is deepening reforms in the current healthcare system.
Zhang Guifeng, a guest commentator of Xiaoxiang Morning News in Changsha, Hunan province, March 19
To eliminate the clashes between patients and doctors, as well as improve healthcare services, public hospitals in the country should make more efforts to serve the public as they are designed to. In specific, drug-selling is not supposed to be a hospital's primary objective, and doctors shall never take bribes or give exorbitant prescriptions. Otherwise, nurses are very likely to be the scapegoats regarding the worsening patient-doctor relationship.
Hui Mingsheng, a guest commentator of China Youth Daily, Mar 19