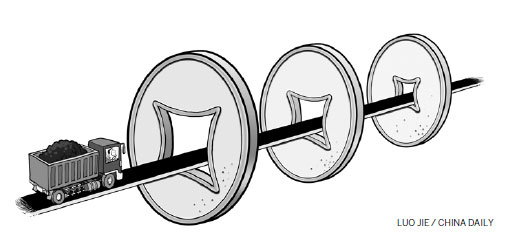 Zhang Gaoxing, owner of a truck in Henan province, and his wife tried to commit suicide by drinking pesticide on Nov 24 after local road management authorities imposed fine on them for overload. The woman survived but her husband died.
This is the second suicide attempt by a truck owner in a year. In November 2013, another truck owner in Henan attempted to kill herself by drinking pesticide after being heavily fined for overload. Investigations by local authorities into last year's incident revealed the fine was imposed arbitrarily. Local authorities are still investigating the latest incident, but people have reacted strongly against the excessive toll and other road charges imposed by road management authorities.
For a better understanding of the issue, we need to take a look at the development of China's expressway network. China boasts the world's longest expressway network in terms of mileage. By the end of last year, its expressways exceeded 100,000 kilometers, although the first expressway was built only in 1988.
Behind the exponential expansion of China's expressway network is the special financing mechanism for infrastructure construction. Since huge amounts of capital are needed to build expressways, the government has introduced a public-private partnership model, allowing companies to take loans from banks to build expressways and repay their debts through toll collection.
China has set a cap of at least 25 years for withdrawal of toll on an expressway. In the western region, the cap can be extended to 30 years. This model would have been acceptable if the toll collection was transparent and rule-based. That is to say, once the operating companies have collected enough tolls to cover their investment and operational costs, and made adequate profits after repaying their loans, toll collection should stop. But that is not the case. Many operators have continued to collect tolls even long after recovering their costs and making profits, pushing up the cost of driving.