Editor's Note: China's air pollution problems are more severe and widespread. However, there are tips shared by our forum readers for coping with this smog-filled way of living. Just try to keep in mind that the air pollution is more of an inconvenience than an impediment and shouldn't stop you from enjoying life in China. You're welcome to share your story with us.
1. Download the "China Air Quality Index" app by FreshIdeas Studio on your smart phone and check it daily.
As you can see, it will give you an analysis of (lightly/severely) pollution, but my general rule is: if its above 80, wear a face mask and limit time spent outside; if its below 80, go outside and enjoy the day, open all the windows to get some much-needed fresh air, and exercise. Seriously though, do not exercise outside if the pollution is high. I went running once when it was around 120 and I got the worst lung infection of my life and missed several days of work.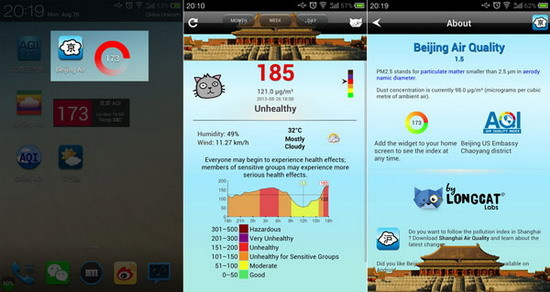 The app and its widget show the air quality index measured by the US Embassy in Beijing. It contains charts demonstrating the PM 2.5 index on a daily, weekly and monthly basis.
Original piece:http://bbs.chinadaily.com.cn/blog-1363600-16944.html