Obama trying to get foothold in Africa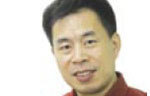 In the past 10 days, US President Barack Obama has done two quite extraordinary things. On June 25, he rolled out new measures to fight climate change by using his executive powers; then a day later, he left for Africa for a weeklong three-nation visit. It was his first presidential visit to sub-Saharan Africa, except for a brief stop in Ghana in 2009.
His trip to Senegal, South Africa and Tanzania was focused on trade. The United States is keen to get a foothold in the continent, as emerging economies, such as China, India, Brazil and Turkey, already have a fast-growing footprint in Africa. In 2009, China overtook the US as Africa's largest trade partner and bilateral trade was close to $200 billion in 2012, compared with $10 billion in 2000, and the direct investment in Africa was $2.9 billion in 2012. China has been building roads, bridges, airports and other infrastructure, and its investment in manufacturing has equaled its investment in mining. In 2011, more than 1 million Chinese visited the continent.
Obama said he does not feel threatened by the growing trade and investment in Africa by emerging economies such as China, but he quickly made a pointed remark: "If someone says they want to come build something here, are they hiring African workers? If somebody says that they want to help you develop your natural resources, how much of the money is staying in Africa?"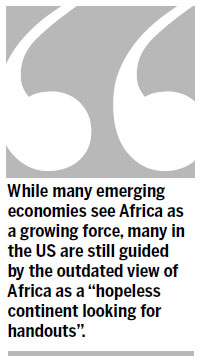 However, Mwangi Kimenyi, director of the Africa Growth Initiative at the Brookings Institution, said Obama's visit is just a "guilt trip". He said the idea that China is not helping Africans is nonsense. "China works with Africans, and we have seen major opportunities opening up because of China," he said.
It is common for US leaders to point accusing fingers at China when visiting Africa. But the lack of interest in Africa among US citizens is obvious despite the fact that 13 percent of its population is African-American.
While many emerging economies see Africa as a growing force, many in the US are still guided by the outdated view of Africa as a "hopeless continent looking for handouts", to use the words of Kimenyi.
The lack of interest is also reflected in the news media. For example, CNN International runs a wonderful program called Inside Africa, but it is simply not available in the US. Meanwhile China's State broadcaster China Central Television devotes more time to African news than any major network in the US.
Obama may not realize that while he was busy meeting officials and announcing a multibillion-dollar electricity initiative, intended to double access to electricity in sub-Saharan Africa, which he hopes will be his legacy in Africa, most US broadcasters had zero coverage of his trip or at most 40-second clips.
In sharp contrast, the trial of George Zimmerman, who is accused of second-degree murder in a case that has triggered a heated racial debate in the US, has received unlimited airtime for weeks.
There is no doubt that companies from all countries, including China, must constantly improve their practices in Africa, or anywhere else in the world for that matter. Yet Obama should first get more US citizens, including himself, interested in Africa, instead of throwing a jab at other countries.
That is the best way for the US to play catch-up in Africa.
The author, based in Washington, is deputy editor of China Daily USA. E-mail: chenweihua@china-dailyusa.com
(China Daily 07/05/2013 page8)