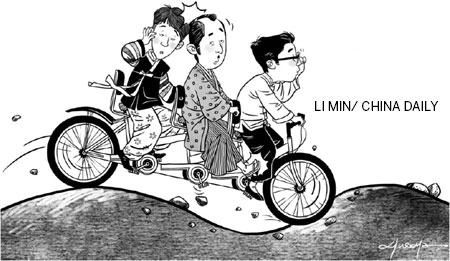 This year could well be called a world election year. The United States has seen the re-election of Barack Obama as president and France has undergone a leadership change. In Northeast Asia, China, Japan, the Democratic People's Republic of Korea, the Republic of Korea, Russia and Mongolia have already seen or will soon experience leadership transitions.
The widespread expectation, therefore, is that international relations will become more harmonious after the leadership transitions. China expects a Beijing-Tokyo-Seoul cooperation mechanism will get a boost after the elections in Japan and the ROK.
Xi Jinping, China's top political leader and head of the military, has reiterated China's stand that it will never pose a threat to another country, because the country needs a peaceful, stable and friendly environment for its development. Rifts or problems are not uncommon between neighboring countries, but they have to be resolved peacefully through dialogue.
The "China threat" theory, which some countries propagate, is not only groundless but also offensive. China has always pursued (and will always pursue) a defensive defense policy, and the Chinese military will continue to strengthen strategic communication with its counterparts in other countries. But China reserves the right to respond to any provocation in kind.
Recent times have seen discordant notes around China. For example, in an interview with London-based Financial Times, Filipino Foreign Secretary Albert del Rosario said the Philippines would support Japan if it scraps its pacifist constitution to become a full-fledged military force to act as a counterweight against China. Such rhetoric aimed at sowing seeds of discord among Asian neighbors should be denounced. China not only does not seek hegemony, but also opposes other countries from doing so.
Sino-Japanese relations have plunged to perhaps their lowest point because the Japanese government violated China's sovereignty by "purchasing" China's Diaoyu Islands. It's high time that Japan discarded its Cold War mentality and saw China's development in the right perspective to understand the changing reality of today's world.
Shinzo Abe, the Liberal Democratic Party leader, is likely to be elected the next prime minister of Japan. The thought of Abe in power in Japan has left quite a few people wondering whether Sino-Japanese ties will suffer further setbacks, because he favors amending the constitution and turning the country's Self- Defense Forces into a full-fledged army.