Ties strengthened via Inner Mongolian ports
By Yuan hui (China Daily)
Updated: 2015-10-21
Autonomous region connects China to Mongolia, Russia and Europe, expanding the import and export of goods, Yuan hui reports.
Legends of the Grassland Silk Road continue in the vast lands of the Inner Mongolia autonomous region.
The autonomous region covers 1.18 million square kilometers spreading from northwestern to northeastern China. It shares 4,261 kilometers of boundary with Mongolia and Russia, which accounts for 19.4 percent of China's total land borders.
Inner Mongolia has 16 State Council-approved frontier ports, including two railway ports, 11 road ports and three airway ports. Nine of the ports connect with Mongolia and account for 95 percent of the total freight volume of Sino-Mongolia trade, and four connect with Russia, conveying 65 percent of China's land trade volume with Russia.
The trade volume between the Inner Mongolia autonomous region and Mongolia in the first half of this year reached 10.65 billion yuan ($1.68 billion), an increase of 6.6 percent from the first half of 2014. Mongolia is the biggest trade partner of Inner Mongolia. The trade volume between Russia and Inner Mongolia from January to June was valued at 764 million yuan.
In the first six months of this year, Inner Mongolia's export and import value was 38.12 billion yuan. Inner Mongolia's businesses dealt with more than 100 countries and regions during the period. It exports to 56 countries and regions, and imports from 63. Trade between Mongolia and Russia accounted for 48 percent of Inner Mongolia's total overseas trade.
The major imported goods from the two countries were natural resources including coal, iron ore and lumber, and Inner Mongolia mainly exported machines, daily articles and food to them.
The continually upgraded cooperation with Mongolia and Russia and the rapid economic development of Inner Mongolia nurtures a rapid increase in exports and imports through its frontier ports. Some 26,786.6 metric tons of freight and 5.28 million vehicles passed through ports in Inner Mongolia from 2011 to 2014, surpassing the totals from 2006 to 2010.
Four ports in Inner Mongolia have the annual capacity to handle 10 million metric tons of cargo. These are Manzhouli, Erenhot, Gantsmod and Tsekee. Freight traffic at Manzhouli port surpassed 30 million tons in 2013, topping all land ports in China. More than 2 million people transit through Erenhot every year. As two crucial spots on the Eurasia Continental Bridge, Manzhouli and Erenhot also cooperate with other provincial administrative regions in China to facilitate customs clearance processes.
Since a regular railway freight transport line connecting Suzhou, Jiangsu province, with Poland via Inner Mongolia started operations in 2013, more and more international railway freight transport between the two continents transits through the two ports. The routes include Chongqing-Inner Mongolia-Europe and Guangdong-Inner Mongolia-Europe, both via Manzhouli; and Chengdu-Inner Mongolia-Europe and Zhengzhou-Inner Mongolia-Europe via Erenhot.
In 2014, 467 trains passed through the two land ports. Inner Mongolia's frontier ports administration offices have regular dialogue with their counterparts in Mongolia and Russia to further facilitate clearances.
In August 2014, President Xi Jinping visited Mongolia to upgrade the countries' bilateral relationship to a comprehensive strategic partnership. Xi also met Russian President Vladimir Putin and Mongolian President Tsakhiagiin Elbegdorj in Ufa, Russia, in July, where they reached many important agreements.
Against that background, the preparation of cross-border economic cooperation zones has begun to turn the top leaders' plans into reality. Construction of an economic cooperation zone that includes Erenhot and Mongolia's Zamyn-Uud is expected to start by the end of this year. A financial park, tourism areas and production and processing facilities are also being designed. The first bilateral consultation meeting was held in March.
"China and Mongolia have geographic affinity, emotional resonance and long friendship," said Bataar, governor of the Inner Mongolia autonomous region.
"The cooperation between the two countries has encountered numerous unprecedented chances with the autonomous region's abundant resources, solid industry foundation and strong support from the central government."
Contact the writers through yuanhui@chinadaily.com.cn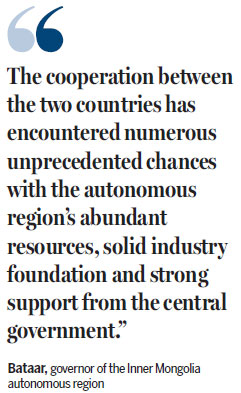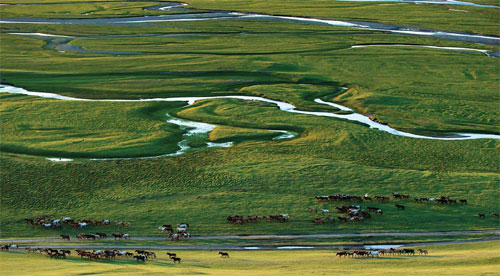 Horses roam across the grasslands in Ar Horqin Banner, Chengfeng, Inner Mongolia. Hasbagena / for China Daily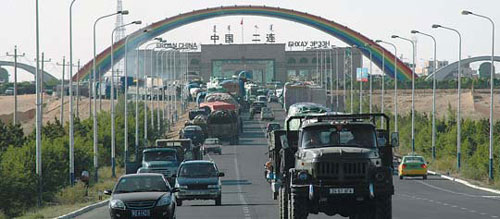 Erenhot is one of China's three northern land border ports and also the only railway port on the border between China and Mongolia. provided to China Daily