Hohhot International Dairy Industry Development Forum kicks off
By Liu Yufen (chinadaily.com.cn)
Updated: 2014-07-22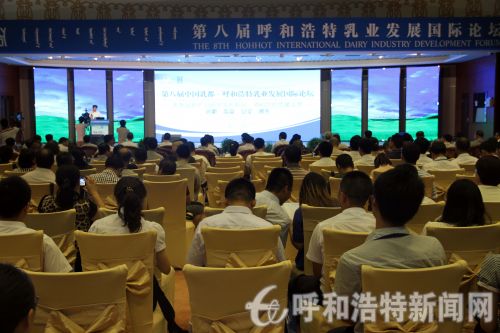 The eighth Hohhot International Dairy Industry Development Forum is held in Hohhot, North China's Inner Mongolia autonomous region, on July 19. [Photo/hhhtnews.com]
The Eighth Hohhot International Dairy Industry Development Forum, an event dedicated to new dairy-product research and supervision over raw milk and dairy products, was held on July 19 in North China's Inner Mongolia autonomous region, hhtnews.com reported.
Dairy ndustry leaders, famous experts and distinguished entrepreneurs were on hand to push forward the healthy development of China's dairy industry through the joint efforts of governments, enterprises and various industrial sectors.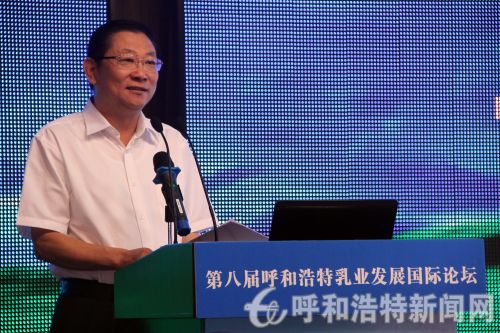 Qin Yi, deputy secretary of CPC Hohhot committee and the city's mayor, addresses the eighth Hohhot International Dairy Industry Development Forum on July 19. [Photo/hhhtnews.com]
Qin Yi, mayor of Hohhot, spoke at the forum. The Chinese dairy industry has won more attention than ever, which means it has a bright future. Throughout the forum's eight sessions, China has witnessed dramatic development within its dairy industry, said Qin.
Qin recalled the last year's forum, when a declaration of "responsibility and trust" was signed by representatives from over 80 cities. It was a promise to guarantee dairy products' quality and revitalize the consumer confidence. This promise has since been carried out.
Patterns within the dairy industry have changed profoundly. For the first time, the Asian dairy industry has a place on the Global Dairy Top 10 as Yili, a Chinese dairy giant, won a spot on the rankings.
Hohhot is known as a Chinese "dairy city" and therefore assumes a leading role in revitalizing the Chinese dairy industry. In response to markets, enterprises and the public, the city must attach much more importance to dairy production, upgrades and product safety, Qin said.
Bi Yuan, inspector of China Food and Drug Administration; Wang Feng, director of the Agriculture Ministry's Dairy Industry Administration Office; and Zhang Jianqiu, executive president of Yili Group, all made speeches at the forum. Their speeches promoted China's dream of dairy-product innovation and the Chinese dairy industry's development.
Edited by Noelle Mateer