The advantages of a different approach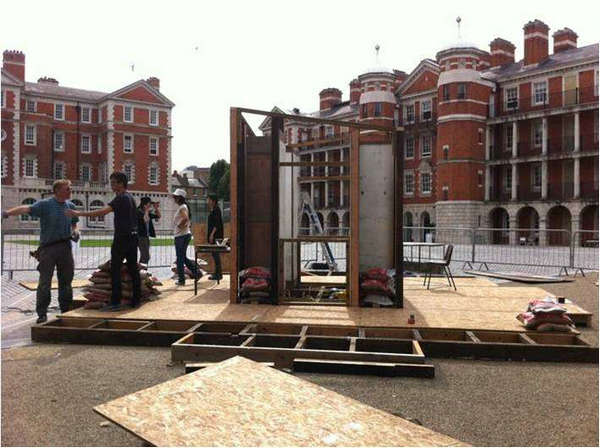 Chinese and international students at the Chelsea College of Arts  make outdoor installations with classmates. [Photo provided to China Daily]
Becoming inspired by research, developing that inspiration with experimentation and improving works with critical thinking and problem solving are crucial for students. But these are often neglected in Chinese art education, she says.
Art education is given due weight in the UK, where the education system is shifting from science, technology, engineering and mathematics to STEAM (STEM plus the arts).
Many art education organizations offer learning projects that meet the various needs of different people.
The numbers of UK museums, galleries and art fairs are impressive, and exhibitions are updated frequently.
He Yiyang, from Hangzhou, capital of Zhejiang province, has been studying museology at University College London in the UK for the past year.
Speaking about her internship experience at the Royal Academy of Arts, she says the museum is an informal learning institute that is indispensable.
"The museum has built a collaborative relationship with schools. During weekends or at night, the museum is occupied by students for classes or workshops," says the 23-year-old.
Museum educators also help primary and high school teachers guide youth to appreciate and practice art.
"I think that is one aim of art education-to instill in each of us the beauty and purity of art, and to encourage people to live happier lives," He says.
Art education in China is also improving rapidly.
Many art teachers who studied abroad have brought back new concepts and teaching methods, says Zhang, the fashion designer. Curriculums have been updated, and international educational cooperation is growing.
The employment market is becoming more diversified, which means more independent and creative talent is needed, she says.
"There are still challenges to overcome, but I'm optimistic."
Contact the writer at xuhaoyu@chinadaily.com.cn