Bridging borders with song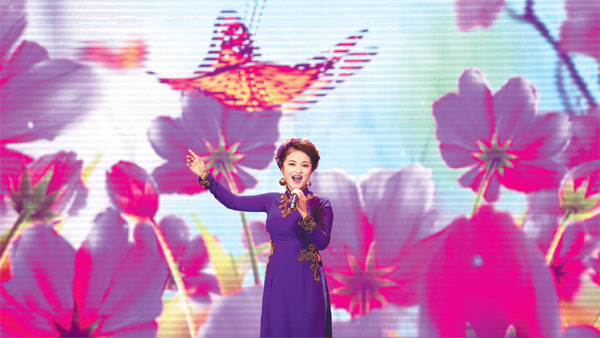 Do Thi Thanh Ho sings at an evening party at Guangxi Arts University. WU KAIXIONG/CHINA DAILY
In 2013, she was recommended for a scholarship at Guangxi Arts University to learn Chinese folk singing.
"The thing that bothers me most is the language. I can't speak - let alone sing - in Chinese," she said.
She then tried to learn daily phrases by having conversations and listening and was prepared at any moment to write down the pronunciation of new words in a notebook.
As for her singing, she learned by imitating.
"I have to listen to a song over and over until the melody and lyrics linger in my head," Thanh Hoa said.
"Chinese folk songs are a fresh and sophisticated world for me. I spent lots of time studying the diversity of the language and the profound cultural background behind the songs, and I've gained endless inspiration and pleasure. You have to know the song as well as a friend."
With hard work, her tender, magical, mellifluous voice and soulful performances managed to smash musical boundaries between two nations.
In the following years, she sang like a lark in both Cantonese and Mandarin - and also in Vietnamese, of course.
In 2015 she was invited by the Vietnam government to sing for Chinese President Xi Jinping and his wife, Peng Liyuan, who were then visiting the country.
"I sang songs that are popular in both countries," Thanh Hoa said. "Madam Peng asked me where I learned it, and encouraged me to further my studies in Beijing. I was proud that my songs could somehow create a little bit of connection and sympathy in the atmosphere between two nations."
From that time onward, she has known what she is singing for.
Though busy with graduation matters, she developed a plan for the future: "I will further my education in China next, and later impart what I learn in China to Vietnam to enrich our own singing arts - and more important, keep singing the friendship of two countries."