Bridging borders with song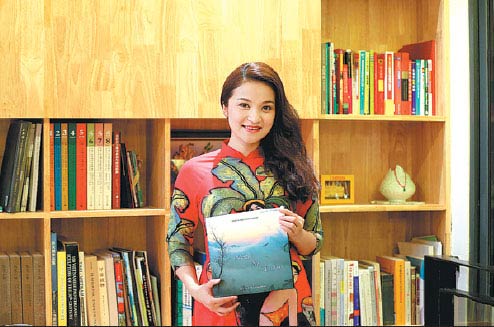 Do Thi Thanh Ho in Guangxi Arts University library. WU KAIXIONG/CHINA DAILY
Singer brings her magical voice to soulful performances that capture hearts in both Vietnam and China, Zhang Li reports in Nanning.
Do Thi Thanh Hoa was mistaken for a Chinese woman at first when she sang a folk song on Walk of Fame, China's popular television talent show (Xingguang Dadao).
But the 25-year-old, who was named champion of the month, is Vietnamese. She is a senior at Guangxi Arts University, based in Nanning, capital of Southwest China's Guangxi Zhuang autonomous region.
"It's unbelivable that a Vietnamese can sing our folk song so well," an expert reviewer of the live show commented.
Thanh Hoa was born in Tuyen Quang, a town near the China-Vietnam border. She was exposed to Chinese music and TV shows at early age.
"I grew up with the story of Journey to the West - my family is fancinated by it," she said before singing the melody.
Obssessed with music, Thanh Hoa sang day and night when she was a teenager. For example, she had won early fame in Vietnam by distinguishing herself from other contestants in various singing competitions.
She won third prize when a dozen aspiring young singers from China and Vietnam competed in a celebration of friendship between the two countries in 2011.
Thanh Hoa's talent caught the attention of Vietnam's Military and Arts University, which is regarded as the cradle of artists in the country. She enrolled, specializing in bel canto, an opera style characterized by the flexible, smooth delivery of high and low notes.