Elderly bring new year's joy to Tibetan communities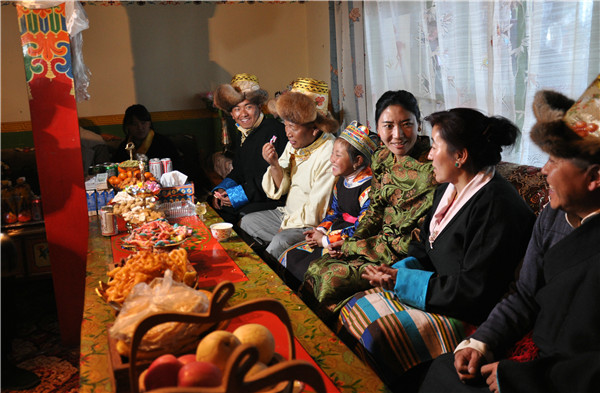 People in Lhasa clad in traditional costumes celebrate the Tibetan New Year, with dance, music and food. [Photo provided to China Daily]
"We don't close our doors on the first day of the Tibetan New Year. Visitors can come in at any time," she said.
In the rural areas, traditional celebrations have been preserved, too.
Dorje, a 27-year-old woman from Sanyou village in the Qushui county of Lhasa, woke up early on Monday to fetch water from a nearby river until her large bucket at home was full.
"It's a Tibetan tradition. We believe it will bring good luck to the family the whole year," she said.
Dorje and her neighbors have decorated their homes with traditional items and have prepared snacks, fruit trays and dried yak-meat dishes.
Sometimes, auspicious patterns are drawn on the ground in front of the gate to drive away bad fortune. Homemade butter tea and qingke wine are necessary drinks for guests in every family during the festival.
Losar is also a time for family reunions. On the eve of the new year, which is called gutor, families usually have a feast together. A kind of dumpling called guthuk, filled with different ingredients such as meat, cheese, wheat and sweet potato, is always served with the other dishes.