Elderly bring new year's joy to Tibetan communities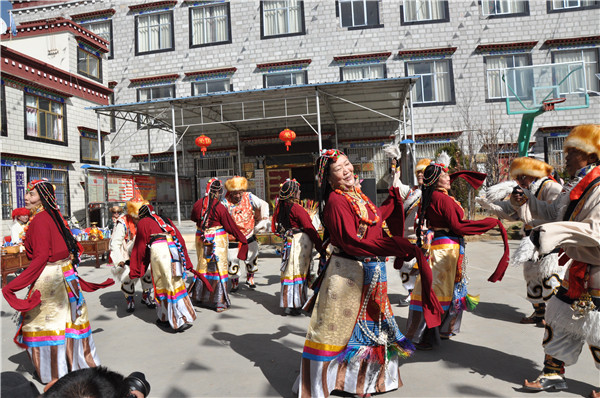 People in Lhasa clad in traditional costumes celebrate the Tibetan New Year, with dance, music and food. [Photo provided to China Daily]
On Monday, as a group of elderly performers danced and sang, members of the Abalin community in Lhasa, capital of the Tibet autonomous region, rang in the Tibetan New Year.
Also known as losar, the new year celebrations are held from the first to the fifteenth day of the first lunar month in the Tibetan calendar, with the first three days being specially important.
"We woke up early to prepare for the performance," said Detsing, one of the members of the Senior Citizens' Performing Team.
Like in Abalin, communities in other urban and rural areas of Tibet have been celebrating losar, among the most important local festivals, with cultural activities over the past two days.
"We must dress in traditional costumes to celebrate the festival. It's also a way to show our respect to other people," explained Detsing, a 67-year-old retired worker from the Abalin community.
Detsing and her troupe have been celebrating the festival with performances for the community for over a decade.
The group, which has since grown from about 10 to more than 50 members, had previously also performed in other parts of Lhasa during the festival.
"Earlier, there was little entertainment for us senior people. But now that we have established the performance group with the help of the community management committee, we can both improve our own health and help local residents have some fun," Detsing said.
Besides such performances, members of the Abalin community also carry homemade wine made from qingke (a kind of highland barley) to greet neighbors and relatives.
The hosts prepare traditional dishes at home for their guests and welcome ceremonies are held at the main door of a house.