Ranger devotes a lifetime to protecting his trees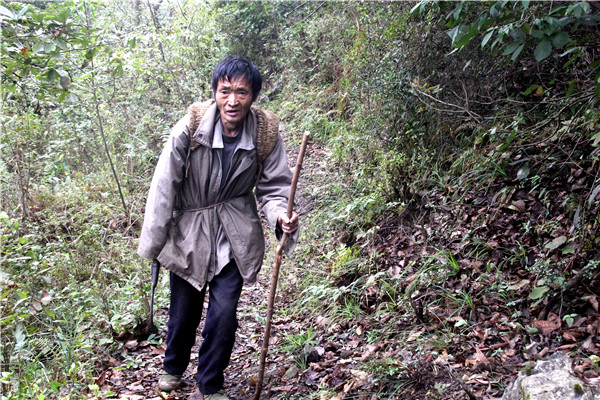 Zhang Youguang, 65, has taken care of an area of mountain forests in Puding county in Guizhou province for 43 years. DONG XIANWU/CHINA DAILY
While walking is a popular exercise for many people nowadays, it can be a real challenge for forest ranger Zhang Youguang, who has consistently walked 6 kilometers on mountainous roads daily for 43 years.
As a young man, Zhang took over the job from his father, who was once a hunter and later accepted the job of protecting the forest, as many people attempted to cut down trees illegally in the 1970s.
The forest in his charge is a virgin forest covering 2,700 mu (180 hectares), located in Pingshang town, in Puding county of Guizhou province in Southwest China.
Zhang has made his home in the forest, which is 28 km away from the town. Under his protection, the one-time saplings have since grown into towering trees.
Zhang wakes up early every day, and he sets out on patrol after breakfast along the rugged and narrow mountain paths.
Taking along with him a bottle of water and some dry food, and tools including a sickle and a wooden stick, he spends hours in the forest. During fire-risk seasons, the patrolling time is longer than usual.
Dangers can be lurking, as the road turns slippery on snowy or rainy days, according to Zhang.
Once he was bitten by a poisonous snake, and he had to stay in bed after his foot swelled up.
During that time, his wife took over his responsibility and patrolled the mountains for two months.
"I was uneasy fidgets when I couldn't go patrolling. I was worried that something might happen to the forest," he recalls, noting that he also urged his wife to take care of herself.
Zhang has stopped illegal lumbering and poaching of wild animals in the region many times.
For example, he ran upon a group of illegal tree-cutters several years ago and managed to take away their tools. However, the group later went to his home and threatened to hurt him.
They only decided to give up out of fear after Zhang told them that he already had submitted the tools to the local forest station.
"I was of course scared too," Zhang explains. "But I will not compromise if anyone dares to damage the forest."
In recent years, such illegal conduct in the forest has diminished as people's livelihoods have improved a lot, Zhang says.
During his tenure, not a single emergency case of fire has taken place in the forest.
As ecological damage has been reduced significantly, more and more wildlife-monkeys, pheasants and hares-are seen in the area, Zhang says with delight.
The passing years have transformed Zhang from a young lad into a 65-year-old. It takes Zhang, who needs to take rests regularly, about 10 hours to finish his daily patrol now, compared with only four hours when he was young.
However, Zhang says he'll carry on with his responsibility until the day he cannot walk anymore.
Zhang is happy that his younger brother Zhang Youquan was hired by the Fenglin village committee as a forest ranger too in 2014. That has relieved some of his work pressure, though he still follows his brother through every patrol and shares the knowledge he's accumulated over more than 40 years.
It is estimated that there are about 37,000 forest rangers like Zhang in Guizhou province. With the efforts of these green guardians, illegal lumbering and forest fires have been effectively reduced in the province in recent years.
Contact the writers through liuxiangrui@chinadaily.com.cn