Why do Chinese women date western men?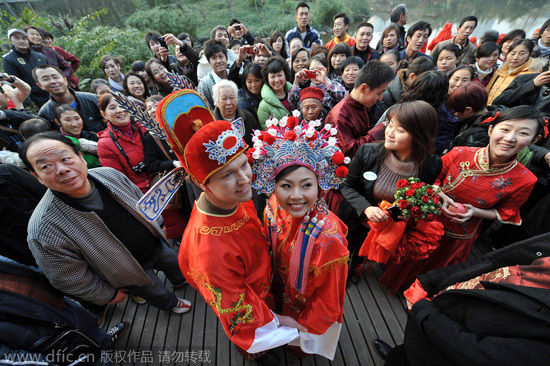 Jonathan from the US and his Chinese bride Xu Shan get married with blessings from family and friends in Chongqing, on Dec 28, 2009. [Photo/IC]
Some Chinese women date western men just because they want a taste of excitement and want to enjoy the experience of dating a foreign man. Some just want to practice their spoken English. And there are always a number of women attracted by western men's money, said Robin, a man who works in a state-owned enterprise in southern China's Shenzhen.
"Young Chinese women, gradually influenced by western culture, want to date foreign men out of general curiosity. While it comes to marriage, most of them would rationally choose Chinese men eventually," Robin continued.
A married Chinese woman who had dated white men before said that white men are better in bed, that they have a good sense of humor, and that they will sweet-talk girls when dating. But she emphasized that while it is easy to like a white man, it is hard to love him. And once you get married to a white man, everything changes in a bad way.
A young Chinese man who works in the embassy area in Beijing said that some Chinese girls date foreign men only to get out of China some day, or perhaps to show off, "otherwise I don't understand why a Chinese girl is hurling herself at a foreign loser. Some foreigners who stay in China are actually losers in their own countries," he argued. "I don't believe their IQs are too low to tell whether those foreign men are losers or not."
A young Canadian woman who is studying in the United States told china.org.cn that Chinese women date western guys primarily because they represent status and money.
A middle-aged Chinese man said that western guys are more tolerant, and they won't feel strongly about marrying a woman who is not a virgin. And unlike Chinese men, they are willing to marry divorced women.
A Korean-American man said that it is either because western men are different from Chinese men, or because they think differently, or both. "You see Chinese men every day, so western men are new and exciting. The other case is that Chinese women might like the way western men think, as opposed to how Chinese culture is. "