Picture perfect marriage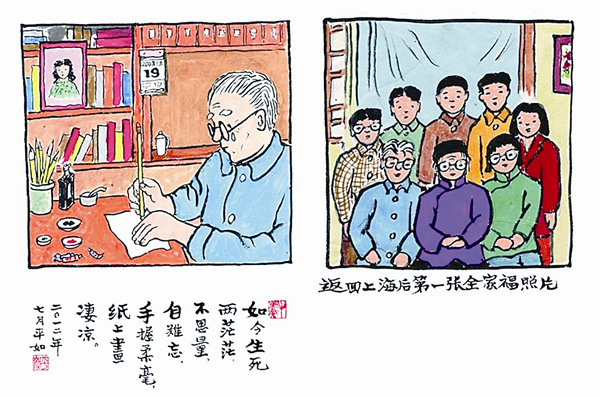 Rao Pingru began painting after his wife died to preserve their memories. Photo provided to Shanghai Star
He chose to capture all the best moments of their life together on paper, because it was the only way he could live on after she was gone. Xu Junqian listens to their story.
Rao Pingru started to paint pictures of his wife and recorded scenes from their 60 years of marriage at the age of 87. It was just weeks after his wife passed away.
The Jiangxi native and former editor calls it "the only way to kill the alone time" after the death of his spouse, Mao Meitang.
"There is nothing one can do about death. But when I put her and our memories on canvas, she is there. And our story doesn't perish," says Rao, now 92, at his apartment in Shanghai where he and his wife had spent their last years together.
From the first time he saw her wearing make-up sitting before a mirror by the window, to their grand wedding at which they pledged their love, to her growing gray, and being bed-ridden, Rao has filled 18 albums with her images.
Rao calls these pictures "our story".
He met Mao Meitang in 1946 on a blind date, just after he returned from war. Rao had already gone on two blind dates, but it was not until he met Liang, the daughter of his father's friend, that the then 25-year-old was struck with a new kind of feeling.
"It's a strange thing. You just have to meet the right person to feel it," he says. Rao says he remembers "thinking she was lovely".
Early dates were sweet and timid. No intimate moves were made, nor were any solemn promises exchanged, not even an "I love you".
The boldest act Rao recalls was to sing Rose, Rose, I Love You to his beloved on a park bench. It was a top pop tune at the time.
Two years later, they were married. The couple adopted a happy-go-lucky attitude wherever they traveled, worked and lived, as the turbulence after the war left them wandering all over the country. They managed to escape robbery by hiding their possessions in tires, teased each other about how poor they were at business while running an eatery, and found it fun and poetic when they lived on a rooftop hut that shuddered whenever the weather was stormy.
"It's not hard unless you consider it hard," Rao says. He says those first couple of years of the marriage were "the sweetest time" in their lives. In 1958, they were torn apart, and would not be properly re-united until 22 years later.