A double hit of happiness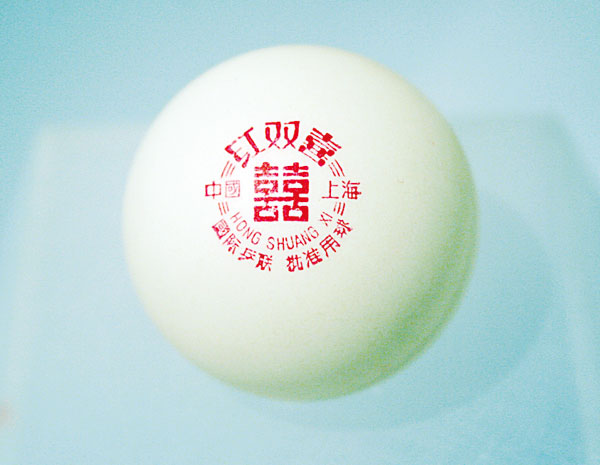 Early models of DHS' ball. Photo provided to Shanghai Star
One of DHS' signature products is the rainbow table, which has appeared in almost all major table tennis games to date. The rainbow table, which stands on a rainbow-shaped arch instead of four legs, made a stunning debut in the 2000 Table Tennis World Cup. Visually pleasing and more stable than its four-legged predecessor, it broke the traditional table structure and is specially decorated for each world event it appears in.
It was regarded as an instant classic in world table tennis equipment design, and is now in the permanent collection of the International Table Tennis Federation's headquarters in Geneva, Switzerland.
Another example of innovation is the new "40+" material used for table tennis balls, launched on July 1, 2014. For a slightly higher cost, the new table tennis balls are more environmentally friendly and can be brought on airplanes without being a fire hazard, and will be the official balls for a range of international competitions between 2014 and 2016, according to Guan.
New efforts are also being put into making colorful table tennis balls. Balls with two distinct colors on each half will be able to indicate the rotation of each hit during the game, making matches even more riveting for audiences.
Contact the writer at wang_ying@chinadaily.com.cn
Jennifer Shen contributed to the story.
BRAND POWER: A DHS table used at the London Olympics, China's most famous female table tennis player Deng Yaping, and early models of DHS' paddle and ball. Photo provided to Shanghai Star