My house, and unwitting neighbors, recently hosted a children's Christmas party to which Father Christmas (or Santa, in the United States) rode up on a tricycle.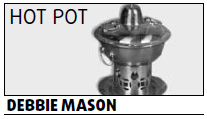 He sat on an artificial reindeer, complete with red nose, in the front basket.
My son goes to a Chinese kindergarten so we invited two of his best Chinese friends, along with all the other Western and mixed-race children we've known for years.
Everyone got excited when the cracked bells clanked and the old, flat-tired tricycle squeaked into the public courtyard carrying a plump, wobbling, slightly slurring, white-bearded, red-clothed old man.
"Santa's here!" shrieked the Western kids.
"Shengdan Laoren lai le!" screamed the Chinese, no less thrilled.
Watching their excited little faces and their expectation when he handed out his goodie bag of gifts, I wondered about how this fat Western figure in red goes down in Chinese families.
Our children are simply lied to.
"He delivers presents to all the children in the world. On the same night. By himself."
"His reindeer can fly."
"He comes down the chimney, even though we haven't got one."
They are also bribed and blackmailed.
"He only comes to children who are asleep."
"He only comes to good children."
When my boy goes back to class after Christmas and asks what his classmates received, will he tell them they were too naughty to benefit? What will the Chinese children feel when they hear about the sack of toys he woke up to on Friday morning? And why he had a week off school?
Chinese children can't be oblivious to the tradition.
Pictures of Father Christmas are all over Beijing, in the classrooms, in the shops. Not to mention the number of Christmas trees and all the traditional music everywhere.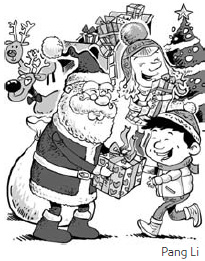 China has embraced this tradition from overseas in a way we certainly haven't Spring Festival, although this has gained popularity in the West.
"My daughter is 5, she knows all about Santa Claus and Christmas," says one Chinese father. "But when it comes to getting presents and so on, they just think, ah well it's a foreign tradition. Something the foreign kids do.
"They don't feel hard done by. To tell the truth, I think it's a bit over the top now. I just prefer our Chinese Spring Festival. Christmas doesn't have any meaning to Chinese families, although it does brighten winter up I suppose."
One Chinese mom I spoke to lived in New York when her daughter was 2. They stayed there for three years, and participated in the gift-giving and Santa myth.
"When we got back to Beijing we carried on with the present giving although, of course, she had to go to school as it isn't a holiday here.
"But she quickly just grew out of it. She's 12 now, and still loves all the fuss and decorations and so on, but she doesn't expect Father Christmas to come down the chimney any more. Or would that, be up in the lift."
For the moment it seems Chinese children are safe from their parents' lying and blackmail. But one does have to wonder whether the tradition will eventually take hold - especially when the warmth and color of the festival does occur in the depths of dark winter, and especially when it's always nice to spoil one's children.