Stars out for Italy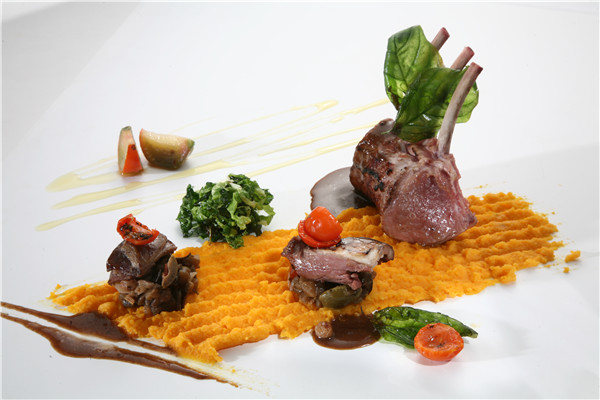 Italy-based chefs from Michelin-starred restaurants will be in Chinese cities for a weeklong cooking frenzy with local Italian chefs. [Photo provided to China Daily]
'China Roadshow' takes guest chefs from Michelin-starred restaurants to Beijing, Tianjin, Changsha and Shanghai for gourmet extravaganza. Mike Peters reports.
For the second year in a row, a midsummer swarm of Italy-based chefs from Michelin-starred restaurants will descend on Chinese cities for a week-long cooking frenzy with local Italian chefs.
The Italian Cuisine & Wines World Summit begins this week, kicking off with a gala dinner at Beijing's La Pizza in Shangdu Soho on Tuesday. Nicola Cavallaro of Milan, one of three guest chefs at that opener, will be at La Pizza for two more nights, Wednesday and Thursday, directing the preparation of set menus served beginning at 6 pm.
The Italian Cuisine & Wines World Summit started in 2009 and has been held in many cities, including Tokyo, New York, Dubai and Hong Kong. The goal: Bring high-quality Italian food and wine to local foodies and share the Italian lifestyle. In 2016, the eighth summit was held in Beijing for the first time. This year's "China Roadshow" includes events in Changsha, Shanghai and Tianjin as well.
On Thursday and Friday nights, chef Luigi Taglienti of Milan's Lume restaurant will take over the kitchen at Opera Bombana in Beijing, showcasing quality ingredients from around the world, including Chilean beef, French Gillardeaux oysters, Japanese Alfonsino and Australian black winter truffles.
Wednesday through Friday, Hilton Beijing Wangfujing will host chef Luciano Zazzeri for three nights of Italian feasting at Flames Grill, with the theme "A true inspiration to Mediterranean Culture". Zazzeri, who began his working life as a fisherman, ultimately took over his family's acclaimed restaurant La Pineta. His menu for Beijing is totally seafood classics, including a trilogy of fish tartare and mixed fish "Brodetto" with crispy pasta.