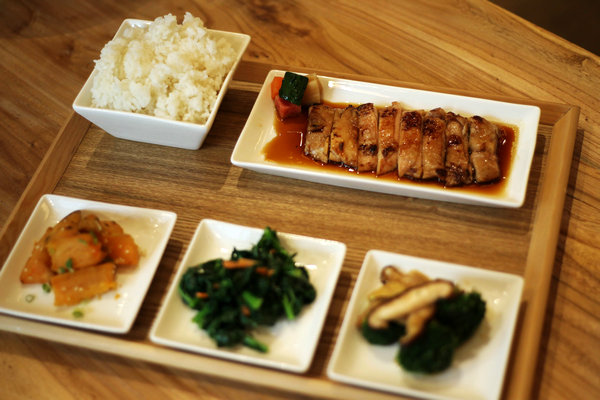 Dishes on offer in Obentos restaurants meet founder Andrew Stevenson's purpose of healthy eating. [Photo by Guan Xin/China Daily]
Moderation is key with any food choices, he observes, but there are some no-nos.
"No fast food ever," he says of his own eating habits. Processed foods are his biggest red flag: "If something has a shelf life longer than five days," he advises grocery shoppers, "there are additives making that happen, and they probably don't belong in your body."
He acknowledges that price and alternatives can shape our decisions. "It's not easy to get fresh milk, for example," he says. "I'll buy Australian milk and drink it all month."
He's leery of the current juice craze as well as "vitamin waters" because of the sugar content in them.
"I do eat chocolate once in a while," says the fit and trim runner, noting that being physically active is as important as what you eat. "I get most of my sugar from energy bars. The question has to be: Is your body consuming the sugar you take in, or is it turning to fat?"
He's experimenting with fasting, keeping it simple at first by blocking out the last day of each month to reset and recharge his body that way.
"The hardest thing about a fast is the sugar craving you get," he says. While many first-time fasters overeat before they start, Stevenson says working your way to a fast gradually will make it much easier.