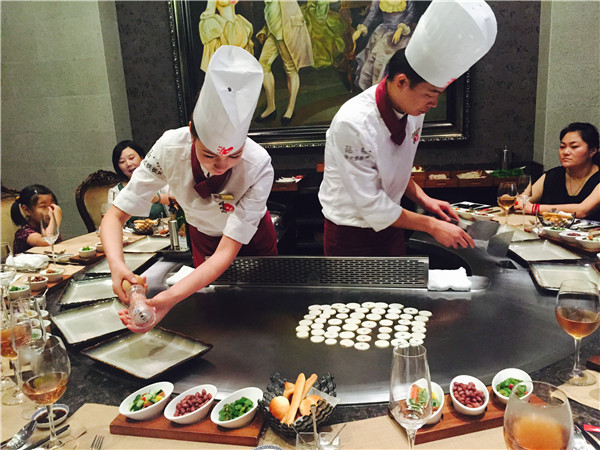 Chefs at Pin Wei French Teppanyaki in Beijing give diners a pleasant experience by using cooking spatulas in creative ways to prepare, cook and plate the food. [Photo provided to China Daily]
Most people know teppanyaki as a style of Japanese cuisine cooked on a teppan, or iron griddle. But in fact, so-called French-style teppanyaki eateries dominate the restaurant scene in big Chinese cities. Starting in Taiwan, it adds Chinese and French twists to the Japanese original.
When teppanyaki was invented in Japan in the 1940s as an upscale, intimate and interactive dining experience, what mattered most was the high quality of ingredients and direct communication between the chefs and the diners, according to Cheng Sheng, an established food critic in Beijing. However, it later evolved toward lower-end fare-edging closer to street food, using less-fresh ingredients and tending to showcase knifing and cooking techniques to entertain diners.
More than a decade ago, a Taiwan chef who specialized in both Japanese and French cuisines combined the culinary styles of East and West, and created what was later called French-style teppanyaki when it was introduced on the Chinese mainland, Cheng says.