Calypso sweetheart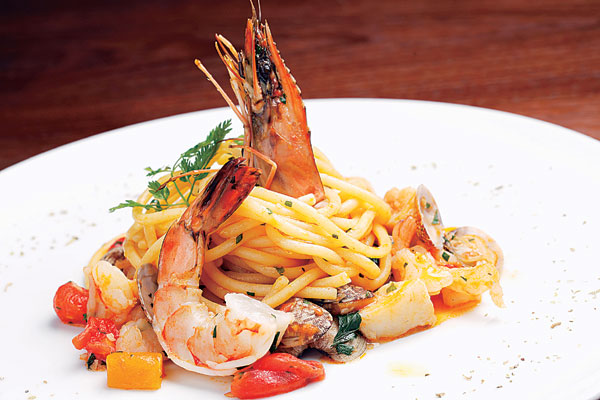 GENTILE FOOD: Italy's best pasta is paired with great seafood. [Photo provided to shanghai star]
The pasta is proudly displayed in the dining room, and Gentiles, Ferrari says, has the best semolina-dusted pasta made from durum wheat. Proof is on the plate, and the pasta is indeed all that he promises.
It tastes of wheat and has the firmness that Italians like. Ferrari pairs it with seafood in a dish and the inherent sweetness of the wheat comes through as an under layer on the palate, partying on the tongue with the natural flavors of prawns and clams.
Ferrari also uses the famous 00 flour for his ravioli, and stuffs the dumplings with braised beef cheeks. The serving is not huge, but you will remember this dish for its flavorsome intensity, beef cheeks ravioli, juice and all. The chef is one more example of how dining in Shanghai has changed.
These days, the personality of the chef, and his cooking, is what attracts the diners. Bruno Ferrari is hard to forget. And his delicious Nutella based Bruno Pizza is even harder to forget.
IF YOU GO
Calypso Restaurant Address: Jing An Shangri-La, West Shanghai 1218 Middle Yan'an Road Jing An Kerry Centre on West Nanjing Road 
Tel: 021-2203-8888