Going Spanish, deliciously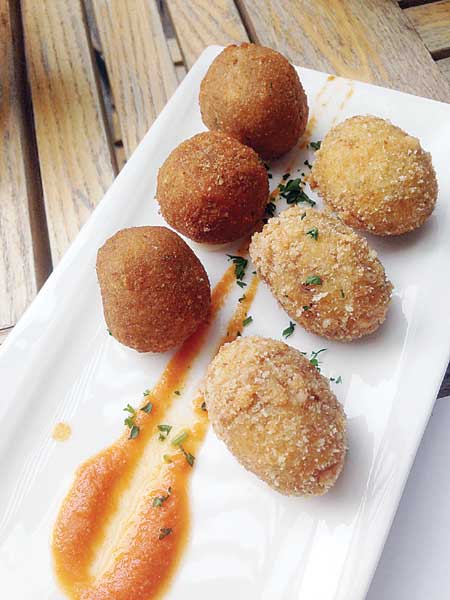 Ham and croquettes: Pink slices of Iberico ham are chopped and used to fill bite-sized croquettes. [Photo by Pauline D. Loh / Shanghai Star]
I was looking forward to a classic Spanish saffron paella, but when this steaming pan arrived at our table, I forgot my determination. We were just too distracted by the visual feast, with the pure black of the squid ink rice setting off the bright pink of Spanish red prawns and blue swimmer crabs.
Wedges of lemon added to the neon art effect. The rice is strangely sweet, an effect of the copious amount of natural squid ink used to cook it.
It's something that you will need to share with friends, because the pan is pretty large, and will easily serve four small appetites and two larger ones. Communities around the Mediterranean have different desserts, but they are mainly variations on the same theme.
There is the classic crème Catalan, a sort of Spanish crème brulee, and a dense polenta cake doused in honey or syrup and served with candied orange peel and some cut strawberries. Beltran has arranged for a tasting platter of desserts, but we were already pretty satiated by then, and there were still the dregs of the sangria to finish.
Pika Pika is a restaurant I would go back to on different occasions. With its scintillating selection of tapas and wines, it is perfect for a girls' night out especially if we get to meet Oscar Beltran. Otherwise, the suckling pig and the paella selection will bring us back for a serious feed at lunch or dinner. Well done, Mr Chen and Mr Chen.
IF YOU GO
Pika Pika 1818, Nanjing West Road 1788 International Center Jing'an district 
021-5275-5665