Energy, food and rail in the mix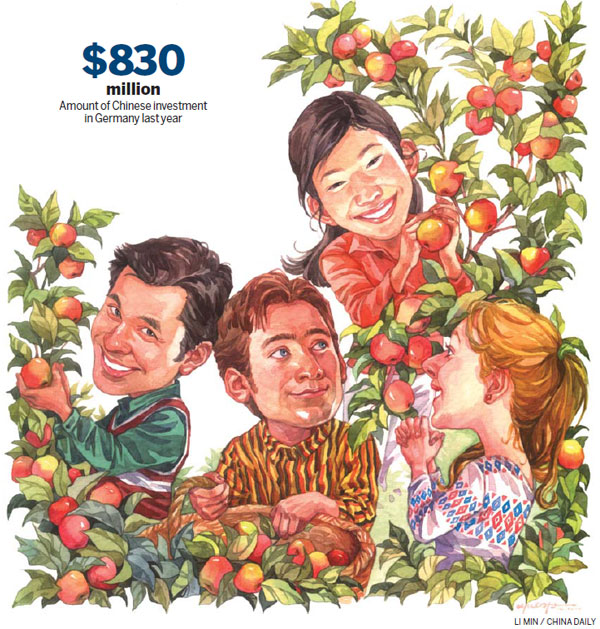 "Great powers are key, neighboring countries are very important, developing countries provide a foundation and multilateralism provides the setting."
That saying used in Chinese diplomacy may well raise the question of where the Europe now sits in the scheme of things. As China's Premier Li Keqiang visits Germany, Russia and Italy from Oct 9 to Oct 17, the resounding answer seems to be: at the very apex.
The trip comes four months after he visited Britain and Greece. On the latest trip, he will visit the headquarters of the United Nations Food and Agriculture Organization in Rome and attend the 10th Asia-Europe Meeting summit in Milan, from Oct 16 to 17.
In March, President Xi Jinping visited four European countries, taking in EU headquarters in Brussels. Analysts say the intensive top-level visits underscore the important international political and economic role that Europe plays.
They also expect a series of deals that will deepen China's relations with the three countries visited and give new impetus to the Asia-Europe dialogue.
It will be Li's second visit to Germany since he took office in March 2013, and with German Chancellor Angela Merkel he will chair the third round of China-Germany Intergovernmental Consultations in Berlin.
Li will also attend the Hamburg Summit on Oct 11 and give the keynote speech. The summit is considered one of the most important Sino-European economic forums, providing a platform for business dialogue between Europe and China.
In Russia, Li will attend the 19th China-Russia Prime Ministers' Regular Meeting and a forum with a theme of innovation. More than 30 agreements on financial, energy and high-speed rail cooperation are due to be signed.
China and Russia are likely to reach agreements on energy, finance and high-speed railways, and highlight collaboration in politics and on international issues, observers say.
During the visit to Italy, which is the current president of the Council of the European Union, Li is expected to hold talks with Prime Minister Matteo Renzi, President Giorgio Napolitano and other Italian leaders.
On Oct 15 he will pay a visit to FAO headquarters in Rome, underlining the importance China attaches to international cooperation in non-traditional security fields.
China's contributions to improving food security and reducing poverty have been widely hailed.
A highlight of Li's trip will be the 10th ASEM summit in Milan, at which China will reinforce its efforts in promoting ties between Asia and Europe. "Europe has an important position in China's foreign diplomacy, as it is China's largest trading partner," says Peter Ho, professor at Delft University of Technology in the Netherlands. "They also have a mutual interest in being able to enjoy the maximum access to each other's markets, as trade flows have exceeded $1 trillion in recent years. The EU is a vast market for Chinese goods. For China, the EU is also a critical counterbalance to the US market.
"But trade is not the only issue. The EU in geopolitical terms also fulfills a complementary, sometimes buffering, role on the international political stage between China and the US."
Germany, the first stop on Li's trip, is the only country he has visited twice since he took office, and follows Merkel's seventh visit to China, in July.
"It is rare to see such frequent high-level visits between China and Germany," says China's Ambassador to Germany, Shi Mingde. "The Sino-German relationship has been playing a leading role in the development of the China-Europe relationship."
Shi says that the defining characteristic of the relationship between German and China is that it is a strategic partnership based on mutual trust.
Business deals and a guideline that deals with mid- and long-term collaboration are expected to be endorsed during Li's visit, Shi says. The document will cover areas such as economics, education, finance, humanities, politics and science.
The deals include commercial cooperation on industries like automobiles and telecommunications between companies from the two countries. The guideline covers various areas including politics, economics, finance, the humanities, science and education.
The two countries have said 2015 will be "innovation partners year" and aspects of this will be featured strongly in the document. China has been named a cooperation partner for the Hannover Messe, the world's biggest industrial trade fair, next April.
Innovation will be a "golden key" for China and Germany as they explore avenues for working together, Shi says. Business leaders and experts expect the innovation partnership to generate more collaboration and business.
The two countries are the largest trading partners for each other in their regions, and trade between the two accounts for 30 percent of China-Europe trade. It is equivalent to the combined total trade of China and Britain, China and France, and China and Italy.
Germany is Europe's largest investor in China. Its investment grew 43 percent, or $2.08 billion, last year. Chinese investment in Germany was worth $830 million last year, 29 percent more than a year earlier, and areas invested in included auto parts, construction machinery, financial services, and renewable energy.
Celina Chew, senior Bayer representative for greater China, says: "Our innovative solutions address some of China's core challenges, such as helping bring new medicines and diagnoses to China that address the great need for better healthcare, safe and healthy food for all and solutions for an energy-efficient infrastructure for transport and construction.
"With our know-how and experience, we are in a position to help China accomplish some of its main long-term objectives to grow economically, in a profitable yet sustainable way.
"We are optimistic about the Chinese market. Today greater China is Bayer's third-largest single market globally and the first in the Asia-Pacific region. We have successfully developed our business activities here and we are committed to continue to invest in this market, to bring the most innovative technology and products to China and support the idea of turning Made in China into Created in China."
Bjorn Conrad, associate vice-president for research and director of innovation and environmental research for the Mercator Institute for China Studies in Berlin, says China is making great strides in increasing its innovative capacity, and in some areas can learn from Germany.
"For example, we are the world champion as a motivator, as a catalyst for innovation. Germany obviously has a very strong structure of small and medium-sized enterprises that are creating strong competition, and a lot of Germany's innovative power lies within this broad spectrum of different SMEs. This is one of the factors that China is also trying to explore more."
Business leaders also expect Li's visit to highlight the fact that China's strategy of reform and sustainable development can produce greater opportunities.
Jens Assmann, deputy director of the international department of the Hamburg Chamber of Commerce, says: "We are eager to hear Li's views about Chinese urbanization as well as about greening the Chinese economy, especially with regard to solutions that European companies can offer."
China is increasingly becoming a new and very large consumer market for European companies and their products, he says.
"Member companies are eager to learn how the implementation of economic reforms in China can help them and further open China to foreign businesses."
Ian Oades, vice-president of finance and head of investor relations at Joyou AG, a German company that designs, produces and sells bathroom and kitchen ware and operates in China, says: "For Germany and the European economy as a whole, I expect this trip will bring more investment from German enterprises and also support Chinese companies in increasing their business in Germany.
"I hope that Premier Li will continue to support opening up Chinese markets, which has been promised and delivered during previous state visits."
Alexandra Voss, chief representative of the Delegation of German Industry and Commerce Beijing, says she believes Li's visit is another chance for the two governments to deepen their close relationship.
Topics she says will be up for discussion include urbanization, balancing sustainable growth and environmental protection.
China remains one of the top markets for German companies, she says, despite the challenging environment and slowing economic growth.
About 4,500 German companies operate in China. Of these, about 60 percent have joined the chamber, which supports member companies by providing market information and advice.
"The Chinese government has announced an array of potentially far-reaching reforms," Voss says.
"For the most part, the German community is optimistic about them."
For example, 69 percent of interviewees in a recent membership survey expressed optimism about China's policy on expanding domestic demand, 65.6 percent were positive about improved environmental protection and 58.9 percent said they support an increased role for markets.
"In principle, German enterprises are supporting the Chinese government's reform plans and expect certain outcomes such as improved market-entry policies and a level playing field for all companies conducting business in China," Voss says.
Carolynn Look and Zhang Kexin contributed to this story.
zhangchunyan@chinadaily.com.cn