Going Spanish, deliciously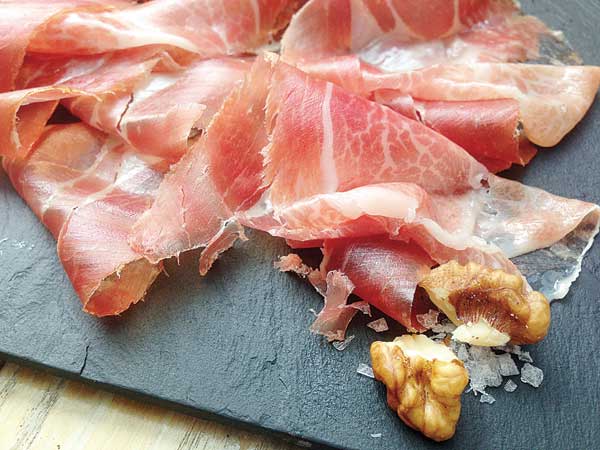 Ham and croquettes: Pink slices of Iberico ham are chopped and used to fill bite-sized croquettes. [Photo by Pauline D. Loh / Shanghai Star]
Our meal starts with a jar of sangria, full of citrus juices and fruits and so easy to down that the jar was half-empty even before the first appetizers arrived.
We get tomato bread — toasted, rubbed with garlic and then a ripe tomato — the flavors of summer and sun. The taste of the season is followed through with a platter of Iberico ham, bright pink against the dark slate, bitingly savory and satisfyingly full-flavored.
Even before the prawns in garlic and chili olive oil appears, we hear it sizzling and our nose is tempted by the bittersweet fragrance of fried garlic. The prawns are succulent, and the shells come off easily.
The best bit came with the basket of fresh bread and we eagerly reach for slices with which we dip into the fragrant flavored oil. No one turns a hair as we abandon the cutlery and use our fingers.
This is "pika pika", says Chen. We love "pika pika". Next came the croquettes. Crisp and golden on the outside, they hide different creamy fillings. Beltran grins and tells us one is made from fish, and the other is a ham and onion filling, bound together by a simple roux.
He glosses over the making, but we all know how difficult it is to make croquettes that are light and delicious, with an almost liquid center but a perfectly formed unblemished crust.
Beltran does his croquettes well, and they must be ordered. The main attraction, Chen says, is the squid ink seafood paella, which he claims is a favorite order with all his female diners.