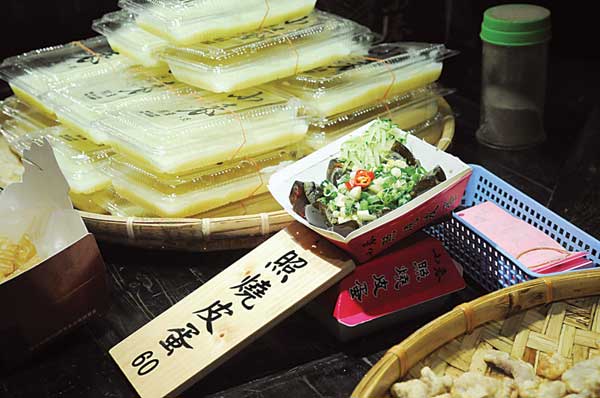 Teriyaki-fl avored century egg. [Photo by Xu Lin/Shanghai Star]
She places the peanut brittle shavings on the crepe, adds two scoops of icecream and finishes off with a sprinkle of coriander leaves.
The last step is to make it all into a spring roll. The combination of sweetness of the candy brittle and icecream and the pungent herb makes it an unusual cooler for the summer heat.
Not everyone takes to it, however, as one man's dessert may be another man's poison. The Snow King Icecream Store next to Zhongshan Hall in Taipei's Ximending neighborhood has 73 flavors of fruits and vegetables, with flavors including mango, cinnamon, and bitter gourd.
It gets even stranger when you sample their pork knuckle, pork floss and sesame oil chicken — in an ice cream. You can indeed eat from the beginning of the street to the end of the street.
You can even eat from coast to coast in Taiwan and still find fresh flavors. Just avoid stepping on the weighing machine when you finally get back home. Contact the writer at xulin@chinadaily.com.cn.
Night life: The famous Shilin market in Taipei. provided to Shanghai star Teriyaki-flavored century egg. Beef noodles. Kenting fried chicken. Taro. photos by xu lin / Shanghai star Kenting pig trotter.