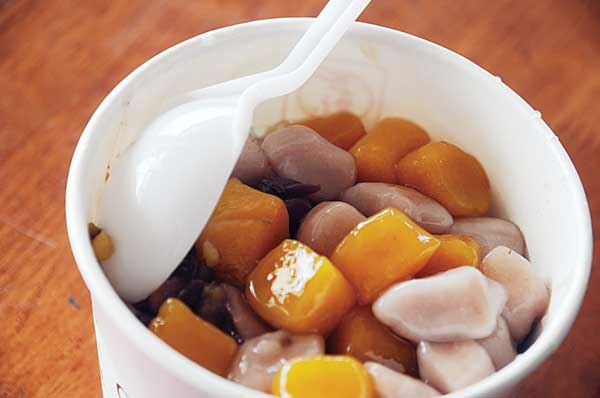 Taro [Photo by Xu Lin/Shanghai Star]
I was amazed by the Taiwanese's obsession with fried food, from big squids, milk curds, preserved eggs to Oreo cookies. Sensational specialty One specialty is "big sausage with small sausage", a sort of Taiwanese hotdog.
The stall-keeper cuts open a deep-fried glutinous rice sausage and inserts a smaller sausage, also fried. Just like the hotdog stand, you can choose different pickles and sauces to go with your sausages.
Then there is the Dongshan duck head. The stall is stocked with a braised selection that includes duck neck, duck tongue, and even chicken butt.
The braising brew is sweeter than the mainland version, and not as spicy. At Yipin Braised Food, there are skewers of vegetables and meat just like Beijing's malatang, the hot and spicy roadside hotpot dish.
Here, the cooks dip your selection into the sweet and briny broth to cook it. Kenting's seafood is fresh and cheap, so prawns, squid and the famous oyster omelet are readily available and very affordable.
The most delicious buns in Kenting come from Xiaodu Steamed Buns, which is on the way to the ancient city of Hengchun.
It is so popular that you need to take a ticket from a machine and patiently wait in line. But the wait is worthwhile because the piping-hot buns stuffed with cheese, red beans or bacon.
On the eastern side of the island, Hualien's Ziqiang night market is famous for the "coffin plank", a fried thick toast stuffed with chicken, shrimps or beef. When you take off the "cover" of the toast, you can dive into the fillings to your heart's content.
Taiwan is famous for its fruits, and the seasonal offerings are fresh and cheap. Fruit juices and shakes made from papaya, avocado, cranberry and pineapple are very popular, and more unusual flavors include houseleek, and bitter melon.
My favorite is the mango milk. Taipei, too, has some famous night markets. Apart from the renowned night market at Shilin, the Raohe and Ningxia night markets offer specialties such as the beef noodles and bone soup.
Another delicious oddity among Taipei's many delicious ice creams is a peanut icecream roll flavored with shredded coriander leaves.
After putting a thin crepe on the iron table-top, the vendor uses a wooden plane to shave off slivers from a huge cube of peanut brittle candy.