Right royal elegance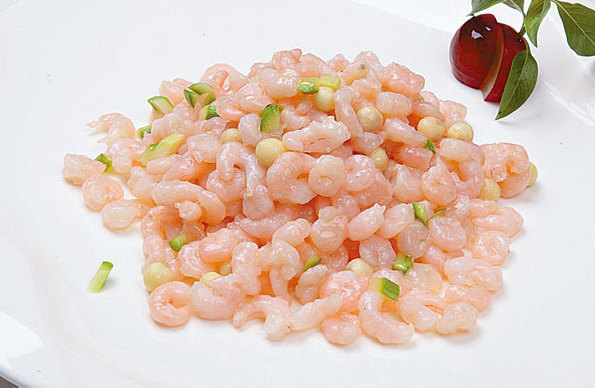 When in Suzhou, it is de rigueur to try the region's lake shrimp.
Next, we enjoyed sauteed broad bean with scallion. I am not partial to legumes, but this dish was seriously addictive. It was served cold, and the smattering of scallions added a nice tang to the simple oil-based sauce the beans floated within.
When in Suzhou, it is de rigueur to try the region's lake shrimp. We had the tiny crustaceans stir-fried with Euryale seed and celery, and it was the culinary equivalent of diving into a freshwater lake. The shrimp were sweet and firm, cooked just enough to take the rawness out of them while keeping all of their natural flavors intact.
Double-boiled matsutake with pigeon and egg was easily my favorite part of the meal. I don't often get a chance to indulge in hearty and nourishing double-boiled soups, and the rich broth was warming and intense with robust mushroom flavor.
Naturally, we had to try their version of Suzhou's famous Mandarin fish. It was presented on an oval plate elevated above tea lights to keep the sweet and sour sauce piping hot. A garnish of cilantro gave the crunchy fish additional freshness, while the pine nuts and peas rounded out its hard and soft textures.
Our vegetable dish featured eight seasonal aquatic plants, simply prepared by stir-frying in light oil. The crunchy textures and contrasting colors of yellow, orange, green, white and black were delicious and a wonderful way to savor vegetables at their peak.
We finished with Chinese date rice cakes, a specialty of Suzhou, and aozao noodles. Dates and I are not the best of friends, and I found the cakes a bit on the dry side. But I couldn't get enough of the noodles, which reminded me of the best dandan noodles. The springy texture was perfectly complemented by the five-spice broth worthy of slurping to the last drop.
IF YOU GO
Shang Palace, Shangri-la Hotel, 168 Tayuan Lu, Suzhou new district, Suzhou, 512-6808-0168 Ext 23.
Average cost per person: 300 yuan ($50)
Recommended: Double-Boiled Matsutake with Pigeon and Egg, Stir-Fried Lake Shrimp with Euyale Seed, Deep-Fried Mandarin Fish with Sweet and Sour Sauce, Aozao Suzhou Noodles