Ideal place to meet 'mom' and 'dad'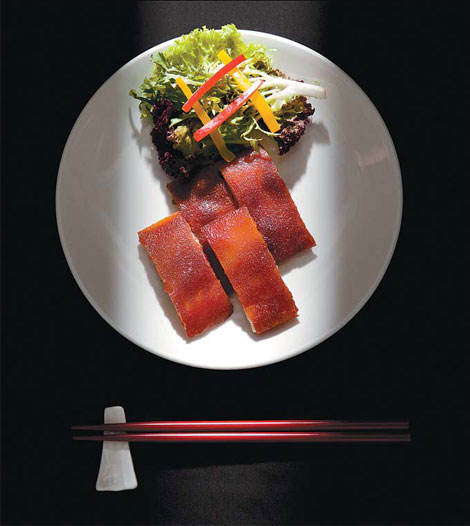 Crispy barbecued suckling piglet is a signature dish at Jade Garden in Shanghai. Photos Provided to China Daily
There is a new restaurant in town, and connoisseurs are tagging it 'the ideal place for impecunious gentlemen to treat and impress prospective parents-in-law for the first meeting'. Xu Junqian tells us why.
Why would a shrewd young man choose this particular restaurant to meet his future mother-in-law? Bluntly put, the restaurant offers excellent value for money, but appears high-end and extravagant - appearances bound to tickle the fancy of the widely known snobbish Shanghainese mother-in-law.
Jade Garden, or Cui Yuan, may share its English name with another chain of restaurants serving Shanghainese cuisine, but this one is a venerable 42-year-old from Hong Kong operated by the Maxim Group. It is known particularly for its dim sum, and wildly popular among yumcha aficionados.
In Shanghai, Jade Garden occupies the entire fourth floor of Jing'an Kerry Center, with a seating capacity of more than 300 and 11 private dining halls.
For appetizers, we are served with the restaurant's signature barbecued suckling piglet, which was very satisfying. The chef proudly says it takes an impressive display of skills to roast a one-month-old piglet to perfect crispness and still retain the succulence of the meat within.
My favorite is the steamed shrimp on egg white in rice liquor, not only because of the intoxicating aroma, or the shelled sweet tiger prawns from Vietnam, but also because the velvety white custard had fully absorbed the essence of all the ingredients.
Forget the silverware carefully placed in front of you. Eat the prawns whole and then slurp up the egg white custard.
The chicken that followed is crispy, fried, and boneless, stuffed with more shrimps. Again, the bird satisfies the two main criteria held by finicky Cantonese gourmets who demand that the traditional roast chicken must have crisp golden skin and tender, juicy meat.