A touch of Taiwan at grand cafe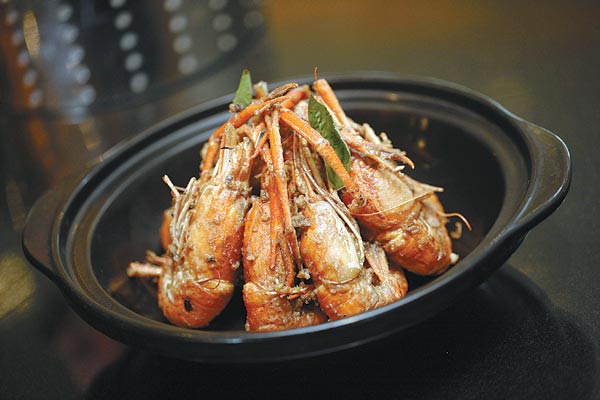 Deep-fried shrimp with pepper is one of more than 50 dishes prepared by chefs from the Grand Hyatt Taipei at Grand Cafe, Grand Hyatt Beijing. Photo by Ye Jun / China Daily
For three years running, chefs from the Grand Hyatt Taipei have visited Beijing to show off the island's cuisine, and this year they had to think harder to try to make the visit to the Chinese capital even more successful.
"What we try to present is a mixture of the traditional taste of Taiwan and a presentation of Western cuisine," says Smith Lu, sous chef of Grand Cafe, Grand Hyatt Taipei. Lu and his colleague Hsieh Cheng Chih, sous chef of Pearl Liang Restaurant, led the culinary team at Grand Cafe, Grand Hyatt Beijing to prepare more than 50 Taiwan dishes at a buffet.
The media tasting started with an appetizer platter of abalone, jellyfish and dried mullet roe. To make it just a little different, the salted mullet roe, a famous Taiwan delicacy, was skewered together with white radish slices and shallot sprouts to balance its rich sea smell.
The spicy sauce that went with the lightly poached abalone was patiently hand-stirred and made with red chili, tomato sauce, ginger and shallot.
The appetizer is followed by a warming pot of chicken soup with bitter melon and preserved pineapples. Like people in East China's Fujian province, Taiwan people like to drink soothing, healthy soups.
The saltiness comes from pineapple preserved with soybean paste, the secret why the soup tastes so natural, with a slight sweet aftertaste.