Heilongjiang now top 'green' food grower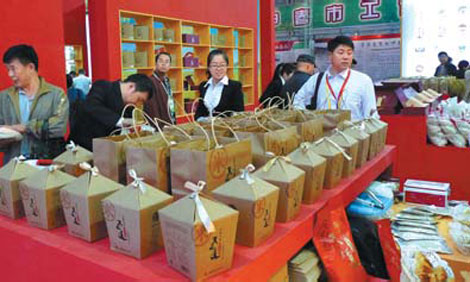 'Green' products are increasingly popular among consumers as food safety awareness grows. Zhou Huiying / China Daily
Autumn grain
The 2013 Heilongjiang Autumn Grain Trade and Cooperation Conference is a highlight of the expo.
Delegations from various cities in Heilongjiang also held their own promotion events.
There are forums on milk and meat processing, cold-chain logistics and finance.
The Heilongjiang government said it hopes businesses from the rest of the country and the world recognize the great potential of the green food industry in the province.
It said Heilongjiang has transformed from a big grain production province to a significant food processor with a special focus on healthy, safe, high-quality and value-added products.
It is now the leading province for green food products in China.
According to the provincial government, in 2012, Heilongjiang's revenue from the green food industry reached 133 billion yuan ($21.7 billion), accounting for one-sixth of the nation's total.
To date, a total of 10,807 products have been labeled as green products - organic or pollution-free - by authoritative domestic institutions, one-eighth of the total in China.
In Heilongjiang, the certified farming areas for green food surpassed 4.48 million hectares, one-fourth of such land in China.
After more than 20 years of development, the province's green food industry has grown into one of its top 10 industries, according to the government.
It said Heilongjiang's unique advantages - a pristine ecology, a climate with suitable sunshine and precipitation conditions and rich agricultural resources - form the core competitiveness of its green food industry.
The industry's development is also a result of the growing demand in China for healthy and safe food, said the government.
For years, the province has successfully held many promotional activities for green food in a range of cities and regions including Hong Kong, Guangzhou, Beijing, Shanghai and Kunming.
Its green food has also been widely recognized and welcomed in overseas markets, said the provincial government.
Related:Officials: Future in organic and value-added foods