Heilongjiang now top 'green' food grower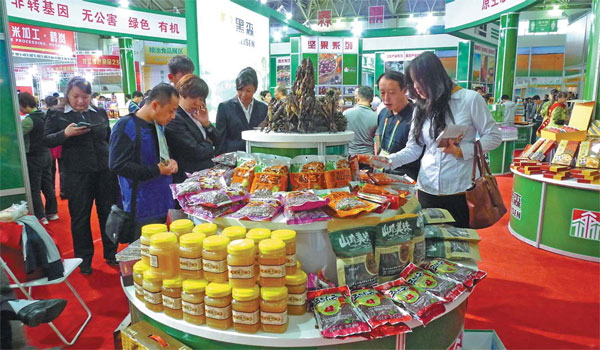 Products labeled as organic, pollution-free or non-transgenetic on display at the Heilongjiang Green Food Industry Expo. Zhou Huiying / China Daily
Produce and processing showcased at Harbin expo
As the nation's top producer of "green" food, Heilongjiang is winning greater recognition at an agricultural expo this week.
The 2013 Heilongjiang Green Food Industry Expo held in the provincial capital Harbin from Sept 23 to 27 drew participation by more than 700 exhibitors and over 2,000 buyers from home and abroad.
The green food industry - growing and processing organic or pollution-free farm produce - has now developed into an important pillar of the local economy, according to the provincial government, the organizer of the event.
The government expects to build the expo into the nation's top event showcasing green agricultural products.
At this year's expo, food producers and processing enterprises as well as farm machine manufacturers and research institutions from China and other countries exhibited their latest products, equipment and technologies.
In addition, industry officials and experts were invited to various forums and symposiums to share their views on new development trends and the latest policies in the industry.
The expo is a combination of exhibits, sales, trade talks and information exchanges.
With an exhibition area of 37,000 square meters at the Harbin International Convention and Exhibition Center, the expo provided 1,100 booths for exhibitors.
A 4,000-sq-m outdoor exhibition showcased food production and processing machinery.