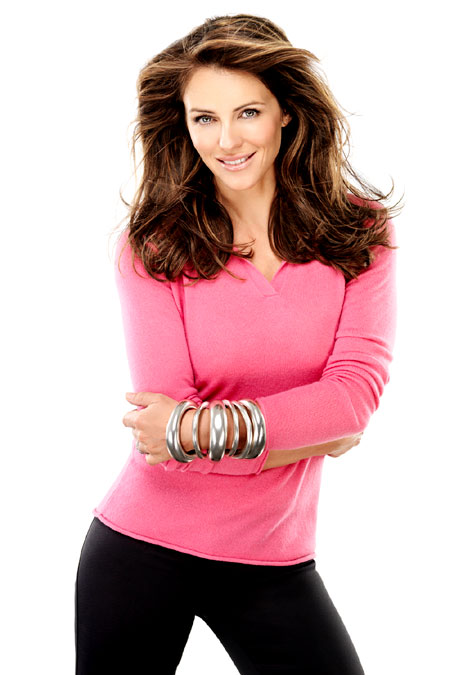 Elizabeth Hurley [Photo provided to China Daily]
Elizabeth Hurley is probably world's most glamorous organic farmer and intends to remain so.
On a recent visit to Shanghai to promote breast cancer awareness, the 47-year-old says reports that she has given up on farming are wide of the mark.
"I have no idea why they said I gave it up, when I haven't," she tells China Daily. In 2003, she had bought a 162-hectare farm in Gloucestershire, where she lived with her former husband, Indian textile heir Arun Nayar, and son, and started working the land.
"I am very proud of my son, who is 10 and eats only organic meat and eggs from my farm," says Hurley.
The British actress and model has been busy elsewhere too, as the face of Estee Lauder. She also launched her own beachwear line, worked on several movies, and made a guest appearance in Gossip Girl.
"But being a mom is the most rewarding role," she insists.
"I have been very lucky to have a great deal of job satisfaction from all my roles, actually. My job with Estee Lauder has been phenomenal in many ways.
"I love flying around the world for breast cancer awareness. It's been an amazing education for me," says Hurley, who lost her grandmother to the disease.
Hurley started working with Estee Lauder in 1995, at the invitation of the late Evelyn Lauder, and joined the Breast Cancer Awareness Campaign a few months later.
Since 2012 marks the 20th anniversary of the campaign, Hurley traveled with the Lauder family to celebrate the occasion and light up the landmark Oriental Pearl TV Tower - turning it pink.
Evelyn Lauder, daughter-in-law of Estee Lauder, established the Breast Cancer Research Foundation and introduced the pink ribbon as a symbol for breast cancer awareness in 1992.
Since then, about 115 million pink ribbons have been distributed worldwide and more than $740 million raised to benefit cancer research.
Evelyn Lauder passed away in November 2011.
"She was old enough to be my mother, but she was like my daughter," says Hurley. "And she is particularly missed at this time of the year."
Hurley says she feels a real sense of achievement when breast cancer survivors say they detected the cancer early because of the awareness campaign.
"It happens a lot. Sometimes women come to us in the middle of fighting (cancer); sometimes husbands and sons tell us their wives' and mothers' stories," Hurley says.
"Basically, we do two things: we raise funds and awareness. Fundraising is the best everyone can do, while awareness is about the importance of breast care," says Hurley.
She says every women should have an mammogram every year, which is still the most efficient way to detect breast cancer early.
"There is a 90 percent of survival if the cancer is found at a very early stage".
Hurley had her first mammogram at the age of 40, a birthday present from Evelyn Lauder, and she has kept her promise to have one every year since.
xujunqian@chinadaily.com.cn