Leisurely lifestyle, growing affinity for fine French wine
With Chengdu becoming increasingly international, more locals are incorporating overseas cultural elements into their traditional leisurely lifestyle. Cindy Bellemin-Magninot, manager of Montpellier promotion and a partner in the EU Project Innovation Center, shares her thinking about the capital of Sichuan province and its growing affinity for French wine.
What's your impression of Chengdu?
Chengdu is a very beautiful and large city.
In France, we have no such big cities and even Paris is smaller than Chengdu, so we have to get used to the very big buildings and big roads but lots of traffic jams.
And it is also an interesting city, for you can feel Chengdu is now developing and growing fast.
This is a nice environment for our companies and offices because you can find anything you want in the city.
Since part of your work is to promoting Montpellier wine, what brought you to the city?
First of all, the relationship between Montpellier and Chengdu started a long time ago - they became sister cities in 1981, so we want to maintain this relationship.
In 2010, Chengdu EU Project Innovation Center became our partner and we started cooperation projects.
Another reason that we choose Chengdu is that the market here is new.
We have noticed that along with economic development, Beijing and Shanghai have developed a new taste for wine, so we hope Chengdu will be the same and we are actually realizing this already.
This is a good market of course.
How's your project going?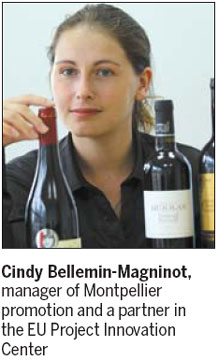 Our wine platform was put into place last year.
The project is new to all of us and we will have new customers.
Everything is going well - we are finding more and more partnerships in China.
The China Food and Drinks Fair held in March in Chengdu was a major event for us to introduce our products and to present our center, showing what it is and why it was established.
The market is going very well.
Do you have any more projects planned?
Yes, we do have some projects.
The center not only focuses on trade, but also training.
We will provide training courses to customers and people who are interested in wine in general because we really believe that wine comes with the French culture. These are associated things.
If you want to enjoy French wine, you have to understand the culture.
That's why we hold trainings to present wine - especially those from Languedoc where Montpellier is located - as well as how to drink wine, and how to match wine and food.
Montpellier Agglomration will also give customers the possibility to travel there with their friends and families next September, to experience by themselves picking up grapes, seeing the wine's production processes, having lunch with wine makers, experiencing the French life and so forth.
The four-day journey will be free except for the plane tickets and accommodation.
How does the EUPIC help you promote your projects in Chengdu?
With the help of the EUPIC, we were able to participate in the China Food and Drinks Fair and also will open a showroom covering a 180-square-kilometers area in the city's tax-free zone displaying the bottles from all Montpellier winemakers.
EUPIC also helps the winemakers to be in tight contact and eventually concrete cooperation.
What is your business model?
We are a government agent. The greatest profit we can have is to help small winemakers get into Chinese market, which they cannot do by themselves.
We are here to help them find customers and to ensure that Chinese customers have proper and real French wine.
There is nobody between us and them, and we take no money.
How many local French companies want to do business in China?
In Montpellier, we have about 51 winemakers, but only 25 are going to sell their wines in China because the rest are too small.
And we have a big partner in Chengdu, a company that buys many bottles and really likes the wine from Languedoc.
Our other Chinese customers are all by the sea or river, such as Qingdao, Nanjing, Shanghai and Shenzhen, because it is really convenience for the boats to there.
And I want to say that Chengdu is really a smart city - they know they are far away from the sea, so they have developed train lines to the Europe instead of boat routes.
Any other topics you want to share with China Daily readers?
Yes. Montpellier is not only doing wine business in China.
We also have other companies active in European markets, mainly engaged in high-tech, communication and software technologies.
We also help Chinese companies to get into Montpellier through an incubator project.
The local government will provide some financial support and other preferential policies to them.