The art of pairing Chinese wine with food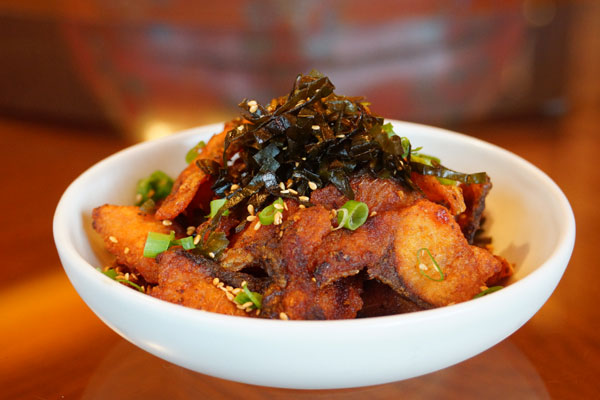 A cold dish of fragrant and spicy dry slices of mandarin fish.[Photo by Ye Jun/China Daily]
Pairing wine with Chinese food is a difficult task. That means it can be tricky, but also interesting. So believes Etienne Haro, director of food and beverage of Grand Hyatt Beijing.
"Every country's wine has its own character," says Haro, who is also an award-winning sommelier. "Similarly, Chinese wines will also develop its own personality and characteristics guided by the local climate and soil condition."
The hotel's Chinese restaurant Made in China will celebrate its 10th anniversary in May. To mark the occasion, they will introduce a menu of about 20 bottles of "made in China" wines.
There were three wines at a recent media tasting - a white wine, 2009 Semillon-Riesling from Wuhai, Inner Mongolia; a red wine, 2011 red Cabernet Gernischt from the same region; and a sweet Cabernet-Gernischt. The wines are made by Hansen, a Bordeaux style winery with a French winemaker located in Inner Mongolia.
On the other hand, Made in China has a great reputation among Beijing's gourmets, both for its Peking roast duck, and for other Chinese dishes. The restaurant's Chinese Northern cuisine chef Jin Qiang has produced some of the restaurant's signature cold and hot dishes for the occasion.
"The fruity flavor of 2009 Semillon-Riesling goes well with Made in China's spring dish, the pickled jellyfish with Chinese cabbage," Haro says. "The 2011 red Cabernet Gernischt complements richer dishes such as stir fried wild boar belly with bamboo shoots and slices of bean cake."
Made in China offers a blend of the most popular Chinese cuisines. One signature dish is "beggar" chicken filled with mustard greens and pork, wrapped in lotus leaf and baked in clay.
Some other highlights of the lunch were crispy roll of codfish and Chinese toon leaf, organic yellow croaker stewed with beancurd, and a very pampering dessert platter.
Compared to Western cuisine, Chinese food typically uses a multitude of seasoning, and therefore offers many flavors, often in the same dish. That's one reason that makes it difficult to match the food with wines.
Although both the wines and the food were impressive at the restaurant, pairing them can be tricky.