'Distinctly Chinese' elements stealing spotlight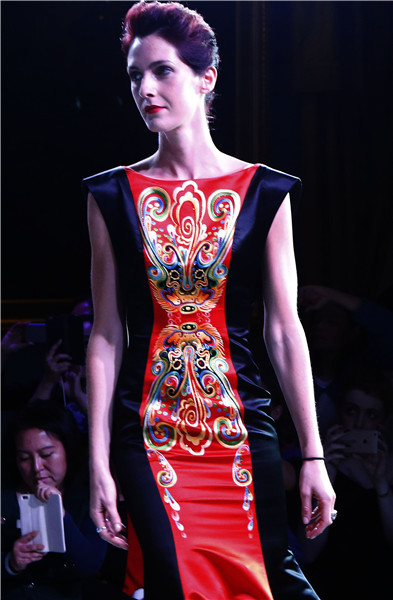 A model presents a Chinese creation on Monday.
"I want my brand to bring out the most beautiful elements of the woman's body. It is a cool brand, designed for the modern international woman who is courageous to wear something unique and loves her own cultural heritage," said Yu.
Yu and Wang are representative of Chinese brands that have grown rapidly in recent years. Another example is the 22-year-old Chinese cultural fashion company Eve Group, which joined with Chinese e-commerce platform JD.com this year to showcase the works of six Chinese brands in London this year.
One of these brands is Eve Group's Eve de Cina, which showed an international audience its evening gowns that use patterns and fabric traditionally associated with the qipao.
Courtney Blackman, managing director of Forward PR, a fashion specialist PR agency in London, said she had noticed an increasing presence of Chinese design during international fashion weeks.
"Chinese designs are increasingly appearing in international catwalks, because many Chinese designers are educated in international fashion capitals like London, New York and Milan. So naturally they bring their collections to these cities."