'Distinctly Chinese' elements stealing spotlight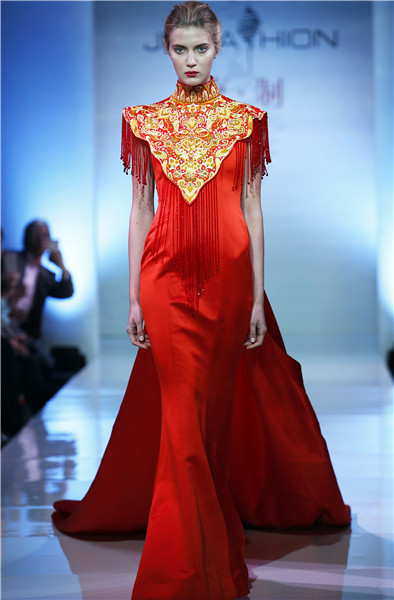 A model presents a Chinese creation on Monday.
"There is so much depth and volume to Chinese culture, which we can use to express ourselves, to express our feelings, emotions and character as Chinese, and that's what fashion is all about," said Wang Yang, who founded the luxury jewelry brand Hera Moment eight years ago.
Although this year's London Fashion Week marks the first time that Wang has exhibited her jewelry overseas, she said the interest from international boutique brands' buyers and individual overseas Chinese customers has been enormous.
"They want something distinctly Chinese, which will shine when they go to conferences and meetings dominated by Western management leaders," Wang said.
Wang, who studied Japanese at Peking University, got a job at accounting firm PricewaterhouseCoopers after graduation, but she later went with her husband to live in Botswana. At that time, many Chinese consumers asked her to bring them precious jewelry from Botswana, and the experience prompted her to think about offering her customers more in terms of Chinese elements and design.