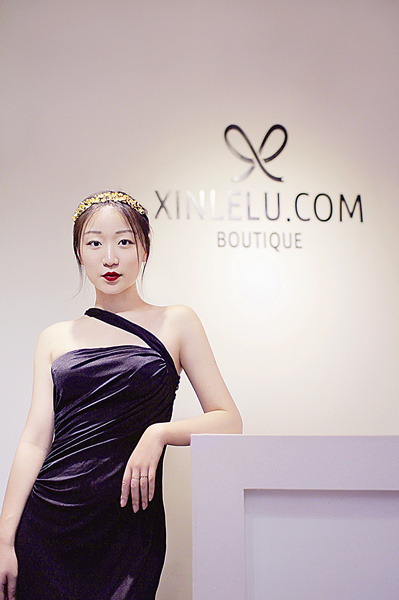 Wu Yilei introduces "late night wardrobe" for fashionistas to shop whenever they want. [Photo by Gao Erqiang/Shanghai Star]
XINLELU.COM, which Wu co-founded together with a British-born-Chinese friend, is named after the street where the two local independent designers they collaborated first started working. Today, the store works with about 50 local and international fashion designers, and stocks daily wear, evening dress, accessories and bags.
After finishing her studies in London, the fashion marketing major worked in both international fast fashion retail and luxury brands. She launched a women's wear brand, 1/2 Eternity, focusing exclusively on white shirts, "something that should be as important as a little black dress but greatly overlooked", and in 2011, joined XINLELU.COM, an e-commerce site and a brick-and-mortar store with a vision to "discover new designers and redefine Shanghai styles".
To be more specific, the "Shanghai styles" Wu and her partner try to redefine is the style of the hundreds of thousands of office workers in the city, who are "not fuerdai, the second generation of the rich, or the taitai, the wives of the rich, or xiaosan, the mistresses".
"They make their own money and spend their own. They don't care what celebrities wear or which piece features the latest fashion element. And they know what looks good on them for certain occasions," Wu says, describing her clientele.
Therefore, most of the offerings at her store are neither edgy nor sexy, but the kind to "make your most look appear normal, elegant and stunning".