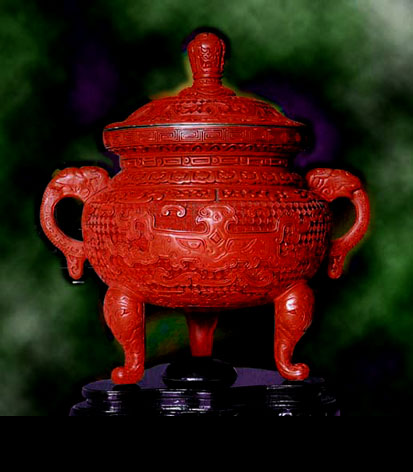 Beijing's traditional handicrafts used to include about 100 different skills in 60-odd categories, of which ivory carvings, jade wares, cloisonne and lacquer carvings have become famed worldwide. However, the statistics from the Beijing Arts and Crafts Association showed that there are only 11 categories surviving, with 43 lost or on the verge of extinction.
China's arts and crafts industry was booming in the 1950s and 60s. "At that time, there were 3,000 workers in the Beijing Jade Factory," said Li Bosheng, 64, a master craftsman, who started his jade-carving career 45 years ago. "The jade wares produced in a month would fill a big house, but there still weren't enough to satisfy demand."
Wen Qiangang, 62, a master of lacquer carving, said that the Beijing Lacquer Carving Factory was one of the most sought after places of employment in the industry during the 1970s because of the high prices the products commanded and the bonuses paid to employees.
Heyday and decline
Not only lacquer carving but also all other traditional arts and crafts did very well in Beijing in the 1970s.
"You didn't have to worry about surviving or the need to expand," Wen recalled. "But just look at the depressed state of the industry now."
Because of the huge investment required, traditional Chinese arts and crafts were expensive, and few Chinese people could afford them.
But they sold well thanks to their artistry and sophistication. Lacquer carvings were one of the luxury articles made exclusively for the aristocracy in ancient China. After the founding of New China in 1949, traditional arts and crafts mostly went to the export trade. But given the current competitiveness of international markets, they did not do well because of their high cost.
In the 1990s, the arts and crafts sector shrank dramatically because of low profits and rampant counterfeiting, and quite a few traditional skills died out or were on the verge of extinction. In 2002, the Beijing Arts and Crafts Factory, the largest of its kind in China, went bankrupt, putting its backlog of artworks of the latter half of the past century up for auction. So far, seven arts and crafts enterprises have gone bankrupt in Beijing.
Worse, the decline of the industry makes young people reluctant to apprentice under the old masters. The number of highly-skilled craftsmen in the sector has dwindled to about 1,000 at the present time, according to the Beijing Arts and Crafts Association.
Only 10 percent of workers in the sector are under 30 years of age. Twenty-seven of the masters at the national level are more than 60 years old and retired.
Facing bleak futures and meagre salaries, many craftsmen have sought new employment. Some with arts backgrounds have become interior decorators; some have taken jobs as salespersons to make ends meet and some senior craftsmen, though superbly skilled, have been left unemployed with nothing to do.