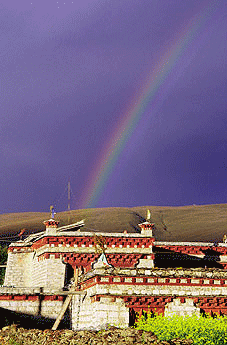 A town up in the air?
Although it sounds like a fairytale, there truly is a town by the name of Litang -- China's most remote tourist area of utter tranquility. Since there is no airport in Litang it takes at least two long days to get there by bus from any major city in China.
An Isolated Oasis on the Roof of the World
Known as the "town up in the air" and the "first town up the stairway to the roof of the world", Litang is an ancient town and one of the highest settlements -- 4,200 meters above sea level. Located in the Ganzi Tibetan Autonomous Prefecture in the remote far west of Sichuan Province on the edge of huge grasslands, it is both geographically and culturally considered a part of Tibet.
Litang is an isolated oasis. Its surrounding hills and grasslands below are heavily grazed by yaks, sheep and horses. Dotting the vast stretches of grasslands are many different nomad camps; in the summer one may spot caravans heading west along the trails.
The region feels like the roof of the world enveloped by snowcapped mountains spanning as far as the eye can see. The sky itself looks brighter and bigger, and one feels as though his or her lungs have become smaller: Even a moderate effort can accelerate one's breathing due to the mild rarefaction of oxygen. As soon as the sun disappears behind a cloud, the temperature drops and the chilly wind begin. As a saying goes, "Steaming bread freezes like iron soon after it's taken out from the bamboo steamer."
The roads to Litang were once the most treacherous in China, and many adventurers died trying to conquer this harsh area. Today, roads conditions are rapidly being upgraded: Tunnels are being blasted through the most dangerous areas and roads are being paved.