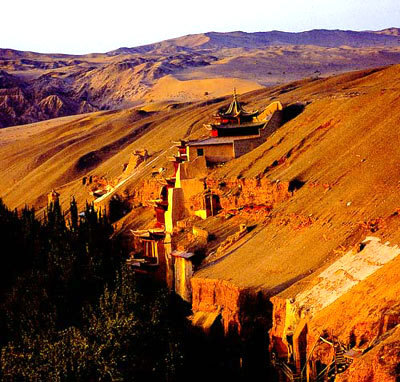 Kumtag, China's sixth largest desert, is expanding by one to four meters eastward annually, posing a threat to the Mogao Grottoes, also known as the Caves of 1,000 Buddhas, in northwestern Gansu Province.
The nearest floating dune of the desert is only five km away from the Dunhuang city, where the grottoes locate, said Gao Hua, head of the city tourism administration.
A scientific research group has just concluded China's first comprehensive environmental survey of the stark desert, which is found to be expanding in all directions, posing direct threat to local grassland, oasis, nature reserves and the caves, a UNESCO-listed world heritage site.
Fifteen Chinese scientists trekked across the desert in 14 days to collect first-hand geological data, and make research on the hydrology, soil condition, vegetation and environment in the desert.
Wang Jihe, head of the Gansu Desertification Prevention Bureau and also a member of the research group told Xinhua that the desert is spreading its stretches of 2,500 square km between Lop Nur of northwest China's Xinjiang Uygur Autonomous Region and Dunhuang city.
Kumtag's very meaning is "sand hill" in Uygur language. As its name suggests, it overhangs the small oasis in Dunhuang, which has nurtured the ancient culture dating back to 336 AD in the arid region.
Monitoring by the Gansu Provincial Forestry Bureau shows that the desert has devoured 6.7 square km of arable land every year in Nanhu County, Dunhuang's fringe to confront the desert invasion.
Dunhuang is a city of 31,200 square km, of which 90 percent has surrendered to desertification.
Funds have been appropriated by the central and local governments for the reforestation and desert control to guard the ancient heritage site. The effort, though, is weak, compared with the austere ecological degradation. The full-scale scientific research has been seen as an important part of the integrated efforts to curb the desertification.
The Mogao Grottoes, one of China's most popular tourist destinations, were listed as a world heritage site by UNESCO in 1987. Altogether 735 caves have been found and frescos on the inside walls cover an area of 45,000 square meters. The caves also hold 2,400 colored Buddha statues.